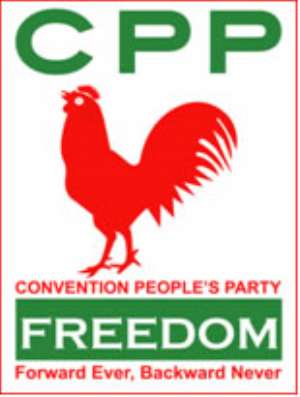 The Convention People's Party (CPP) says the Thursday ruling of a Fast Track high court on a case initiated against it by the Member of Parliament for Ellembele, Freddy Blay, strips them of their powers to approve or disapprove elected candidates running on the ticket of the party.
The CPP claims the verdict, which Mr Blay has described as a "victory for democracy," presupposes that the party is no longer in control of the affairs of its own people.
"That right has been taken away from me and the court now has that right," he said.
Mr Freddy Blay who is also the First Deputy Speaker of Parliament sued the National Executive Committee of the CPP for declaring as null and void the constituency primary that elected him to contest the December parliamentary elections on the ticket of the party.
However the court presided over by Justice Edward Amoako Asante on Thursday ruled that Mr Blay is the duly elected candidate for the Ellembele constituency.
The judge also declared that by annulling Mr Blay's election the party executives violated the party's constitution and acted beyond their powers. He also imposed a fine of 500 Ghana cedis on each of the party executives who were named in the suit.
But reacting to the court's decision, Mr Ivor Greenstreet, General Secretary of the party, maintained that the constitution of the CPP stated that: "The Central Committee shall be the supreme administrative organ of the party.
"It is clear to me today that instead it is the fast track court that is the supreme administrative organ of the party," he opined.
He stated that some letters of approval his office had been preparing for its elected candidates around the country might better be handled by the courts.
"I am even preparing the approval letters for the other 229 parliamentary candidates we have spread across the country. Clearly there is not point even issuing these letters. May be I should advise all these 229 individuals to go to the fast track court… to issue the letters on their behalf."
"Is it the court which is running this party or the party?" he asked rather rhetorically.
Although he would not indicate whether the party had been pitching the idea of appealing against the verdict, it was clear he had not read the details of it.
For now, the next line of action for the party founded by Ghana's first President is uncertain, but a decision on an appeal is predicative on two factors: a meeting with the counsel for the party and a detailed scrutiny of the verdict.