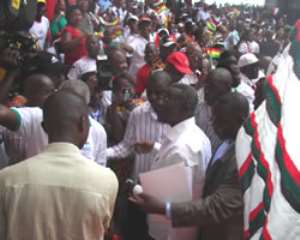 The flag-bearer of the National Democratic Congress (NDC), Prof. John
Evans Atta Mills, says it will take a humble and God-fearing man like him to make Ghana a better place to live. He has therefore asked Ghanaians not to make the mistake of retaining the ruling New Patriotic Party (NPP) in power in the next elections.
He says it is only a government of the NDC that can solve all the pressing economic and social problems bedevilling Ghanaians, adding that the nation does not need a vindictive person to lead as president.
The NDC flag-bearer, who was addressing party faithful at the official launch of the 2008 NDC manifesto for this year's presidential and parliamentary elections on Saturday, stressed that "God is on our side".
The manifesto, christened, "A Better Ghana", which was launched amidst drumming and dancing and poetry recital, according to the NDC, is expected to put Ghana back on its reconstructive path and work towards building a better Ghana.
Prof. Mills indicated that the Kufuor-led NPP government has stomach-directed the economy of the country, describing the moving forward slogan of the ruling party as moving forward in the wrong direction.
He stated that the bad policies and programmes initiated by the NPP have brought multi faceted hardships, caused by incompetence and systemic corruption, on the ordinary Ghanaian.
The NDC flag-bearer further stated that it was on that score that the NDC party has put together its vision for the country in the years ahead if it forms the next government in order to alleviate the worsening economic conditions of the suffering masses.
According to Prof. Mills, the NDC manifesto was created during interactions he had with the masses in his door-to-door campaign all over the country.
According to him, he can confidently say that Ghanaians are clamouring for a change of government through the ballot box and are clamouring for the come back of the NDC to salvage them from the hardship they are experiencing under the current government.
He pledged to establish a lean but effective and efficient government by cutting out ostentatious and profligate expenditure, rationalizing ministries and ministerial appointments in humility and integrity as President of Ghana.
The former Vice President and presidential hopeful of the NDC also pledged to review and reconstitute the membership of Commissions and Boards solely on the basis of expertise and competence, eschewing all partisan and familial considerations within the first 100 days of his administration.
Other speakers who highlighted on various aspects of the manifesto were Hon. Lee Ocran, Chair of the Manifesto Committee, who gave an over view of the manifesto, Mrs Betty Mould Iddrisu , Hon. Haruna Iddrisu , Dr Lucy Amoako Nuamah, Steve Akuffo, both ex- NDC Minsters and Hon. Alban Bagbin Minority Leader in Parliament.