Stranded passengers in Barbados return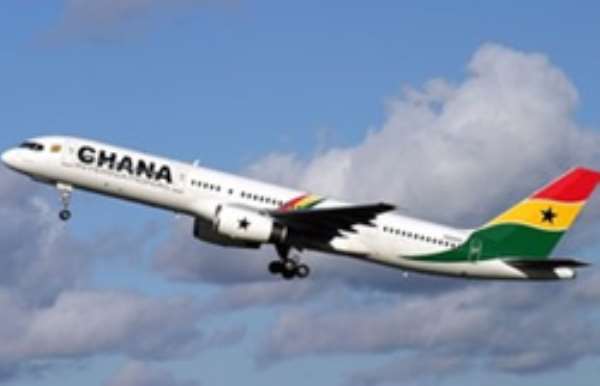 Sixty-one Ghanaians who were stranded in Barbados for the past two-and-a half months, were on Thursday flown back home on board a chartered flight, Miami Air International.
Also with the Ghanaians were 19 Nigerian passengers who declined to disclose any information about themselves.
The exercise was a collaboration between the government of Ghana and authorities in Barbados.
Some Ghanaian passengers who spoke to the Ghana News Agency about their ordeal said they got to know of a trip to Barbados being organised by Seasons Travels and Tours, through advertisements in the media.
They said they paid 2,000 dollars each to the tour operators to cover their return trip to Barbados where they were to spend two weeks.
They left Accra on January 31, 2008 on board an aircraft belonging to Ghana International Airlines (GIA) which had been chartered by Seasons Travel and Tours for the trip.
The passengers said after reaching Barbados on February 1, and spending two weeks, the flight, which was to come for them on February 15, as had earlier been agreed upon with Seasons Travels and Tours, did not turn up.
The passengers said they had to find their own means of staying and surviving as they awaited their return flight.
Whilst some found jobs in order to raise funds with which they could survive as they waited for a flight to turn up, others managed to lodge with friends and family members.
When asked weather all the stranded passengers had been brought back to Ghana, the passengers said, "those who have not returned must have decided on their own not to return, since several announcements were made for days in Barbados about the fact that there was an in-coming flight to ferry all stranded Ghanaian passengers back to Ghana today, 8th May 2008".
Mr Isaac Sarpong, Corporate Secretary and Head of Compliance, Regulatory and Legal Department of the Ghana International Airline, told the Ghana News Agency in an interview that, by the legal implications of the agreement between Seasons Travels and Tours and the GIA, the tour operators were solely responsible for the welfare of the passengers it had transported to Barbados.
Mr Sarpong said after the tour operators had made payment to GIA for the passengers to be flown to Barbados, they failed to make payment to GIA for the return trip of the passengers, although these passengers had already paid the tour operators for their return trip.
"There is therefore no way Ghana International Airlines could be held responsible for what happened," he said.
Officials of Seasons Travels and Tours could not be contacted for their comments.