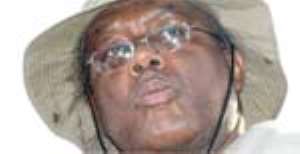 In spite of desperate attempts to save his skin and rebut media reports that he has lost his job, DAILY GUIDE can confirm that Mr. Victor Emmanuel Smith, special aide to former president Jerry John Rawlings, has been drowned out for opening his mouth too wide.
In his place, a team of media experts, including Mrs. Valerie Sackie, one-time press secretary in the Provisional National Defence Council (PNDC) era, and Mr. Kofi Adams, NDC Deputy National Youth Organizer, has been tasked to manage the ex-president's media affairs, the paper has gathered.
The status of Mr. Smith in the Rawlings' household and offices had been dwindling for sometime now.
However, the last straw that broke the camel's back was when he allegedly incurred the displeasure of the former first couple, following false information he purportedly leaked to the media that Mr. Rawlings had accepted Hon. John Mahama, MP for Bole/Bamboi, as running mate to the party's presidential candidate, Professor John Evans Atta Mills.
This was after a Daily Graphic story of Tuesday April 1 on the issue, had been attributed to him.
The story apparently touched on the raw nerves of the former first lady, Nana Konadu Agyeman Rawlings, whose choice is Mrs. Betty Mould-Idrisu.
Nana Konadu therefore took it upon herself to debunk on several radio stations the story that her husband had consented to the Mills/Mahama ticket; neither had he formally met Mills for a final decision on his choice of running mate, she had added.
She said as far as she was aware, her husband, founder of the party, had not spoken to anyone about who would be Mills' running mate and stressed that the Council of Elders and National Executive Committee (NEC) of the party were the bodies that had the final say.
Apart from Mrs. Rawlings who reacted to the alleged acceptance of Mahama on radio, the story equally angered other members of the party, some of whom went on rampage.
For instance, over a thousand NDC youth in Tamale did not only demonstrate in the Northern Regional capital against Mahama's alleged confirmed choice, but also ransacked the regional office and threatened to set it ablaze.
Known as the 'Azorka Boys', the irate youth, whose beef was that a Moslem must be picked to partner the professor, defaced the billboards of the flagbearer by splashing them with dirty engine oil.

Even though Smith later responded to the publication by issuing a press release to condemn it in what looked like a forced retraction, it was not enough to keep him at post.
He tacitly admitted in an interview on Peace FM yesterday that he indeed hinted a Daily Graphic reporter that John Mahama was a possible choice for a running mate, claiming that he did not attribute it to Rawlings.
The ex-president's longest-serving special assistant did not help matters on the Kokroko Morning Show interview when he insisted that he had every right to speak to the media on behalf of the party.
"There is nothing that states who can or cannot speak for the party.
The most important thing is to speak the truth because some of us have really suffered and made a lot of sacrifices and defended the party from the onset till now. So some of us need to be commended rather than condemned because if we had kept quiet all this while, the party wouldn't have come this far", he told the show's host Kwame Sefa-Kayi.
When pinned down to confirm or deny his reported dismissal, the usually blunt Victor Smith strangely went equivocal, but at the same time sounded as if he was expecting to be sacked.
"Mr. Rawlings has not said anything like that to me or to anybody yet. Should there be any such occurrence, I will be the first to inform the media about it", he said.
Interestingly, when the host asked him what he would do should his reported dismissal be confirmed by Rawlings, he solemnly replied, "We should pray it does not come to that".
It is not clear what next he would be doing for the NDC apart from managing the party's sponsored Weekly Standard newspaper. But whatever it is, Victor Smith would be remembered for his Rawlings-like mannerisms.
By Bennett Akuaku