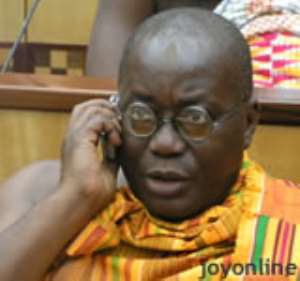 Two members of the campaign convoy of Nana Addo Danquah Akufo-Addo, New Patriotic Party presidential candidate, are reported to be on admission at the Drobo Hospital in the Brong Ahafo Region following injuries they sustained after two cars were involved in an accident on Monday.
Dr. Kobena Arthur Kennedy, communications director for Nana Akufo-Addo's campaign, told Joy News that information he received from the team indicated that the accident occurred between Sampa and Drobo when one of the vehicles ran into the other.
Giving his version of the incident, Mr. Kwabena Adjepong, another member of the Akufo-Addo campaign team said he was in Mr. Osafo Maafo's car at the rear of the convoy when the accident occurred and their car was hit.
He said they were on their way to join Nana Addo at Goaso when the accident occurred on a remote part of the road between Sampa and Drobo.
He told Joy News that he and Mr. Osafo Maafo have gone to the Sunyani Hospital for further treatment and they are doing well.
Nana Akufo-Addo is currently on a campaign tour of the Brong Ahafo Region to sell his agenda of a better Ghana under his leadership and convince voters why they should vote him as president in the December 2008 elections.
Arthur Kennedy said apart from the first car in which the two injured drove, the second car suffered only a small dent on the bumper.