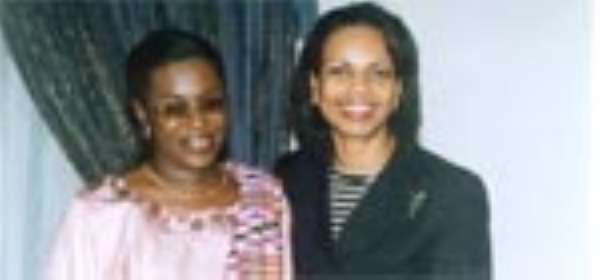 The excitement among state ministers as they strove to pose with US Secretary of State, Condoleezza Rice for rare pictures during her visit to the country, was beyond compare.
The first Black female US Secretary of State in the history of the world's most powerful country was part of President George Bush's entourage during his farewell visit to the country.
The excitement was understandable, because for the ministers, here in their midst stood live proof of the statement that the Black man or woman can reach any rung on the ladder of state affairs even in the most powerful country in the world.
Associating with such a woman who epitomizes the capabilities of a woman and a black person is an achievement worth celebrating, they appeared to be saying to themselves.
Dr. Rice, born on November 14, 1954 became an Assistant to the President for National Security Affairs, commonly referred to as National Security Advisor, on January 22, 2001.
In June 1999 she completed a 6-year tenure at Stanford University as Provost. During the period she was the institution's head of budget and academic affairs. She was also at onetime Professor of Political Science.
For Madam Theresa Tagoe, she could not afford not to pose with this embodiment of a success story. She seemed to parrying away the moves of her male colleagues to come close to Ms. Rice. She succeeded in securing for herself space in the box and used this for a memorable impression fit for the documentary archives.
Even though the men succumbed to her physical pressure, some of them still had the opportunity to relish Ms. Rice's presence in Ghana through the pictures they took with her.
With her country busily engaged in international politics, the Secretary of State graced the inauguration of South Korea's new President Lee Myung-bak after leaving Ghana and Liberia.
Before leaving Washington she reportedly said she had no plans stopping over in Pyonyang, North Korea, whose nuclear status had put her on a collision course with the US.
New York's famous Philharmonic Orchestra is playing in the North Korean capital in a rare performance, but Rice, a classical pianist had this to say; "I don't think we should get carried away with what listening to Dvorak is going to do in North Korea."
She conceded though that the NY Philharmonic's performance in the secluded North Korea would open the communist-inclined country to the outside world.
By A. R. Gomda