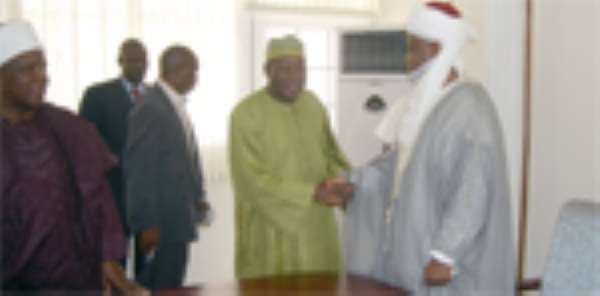 VICE PRESIDENT Alhaji Aliu Mahama has asked the Sultan of Sokoto to champion the cause of tolerance among the various religious groups in the West African sub-region.
Such a move, he said, would promote harmony and peaceful co-existence among the religious sects.
The Vice President threw the challenge when the Sultan of Sokoto, Alhaji Muhammed Sa'ad Abubarkar led a high powered delegation to the Castle, Osu, yesterday.
The Sultan, who arrived in the country on Wednesday, was in Ghana to attend a two -day conference organized by the American Bar Association on World Justice Project. The initiative aims at assisting countries to use the rule of law to facilitate the development and welfare of their people.
The Sultan, who succeeded the late Sultan Mohammed Maccido, was installed as the 20th Sultan in November 2006.
He was the Defence Adviser in Pakistan and Military Adviser in ECOWAS. Whilst in Pakistan, he assumed responsibility for Iran, Afghanistan, Middle East and the Gulf States.
As a former soldier who was well vested in peace-keeping, Alhaji Mahama said the Sultan commands the highest respect in West Africa and should therefore use his high office to foster unity in the sub-region.
Recalling the long standing ties of co-operation between Ghana and Nigeria, Vice President Mahama acknowledged with satisfaction the mutual beneficial relations between the two countries which had been characterized and sustained by regular consultative visits and interaction at the highest political level between the Heads of State, Ministers of State, Parliamentarians and other high ranking public and private sector officials.
The Vice President noted that several Nigerian entrepreneurs have continued to invest in finance, agriculture and manufacturing sectors of the Ghanaian economy, with others engaging in small scale enterprises and trading. Similarly, he added, thousands of enterprising Ghanaians have been attracted to Nigeria by its economic opportunities.
"I acknowledge with satisfaction the collaboration between the two countries in discussing matters of common interest between Ghana and Nigeria in the areas of human trafficking and labour, cross border crimes, proliferation of small arms and light weapons," he said.
Alhaji Mahama said in 1976, the two countries initiated moves to establish a Ghana-Nigeria Trading Company, and noted that the initiative had since culminated in the importation of substantial quantities of crude oil from Nigeria on concessional arrangement.
He wished the Sultan a happy stay and safe return journey.
Earlier, the Sultan commended Ghana for being the host of CAN 2008 and expressed the hope that it would be one of the best tournaments to be organised in the world.
By Sheilla Sackey