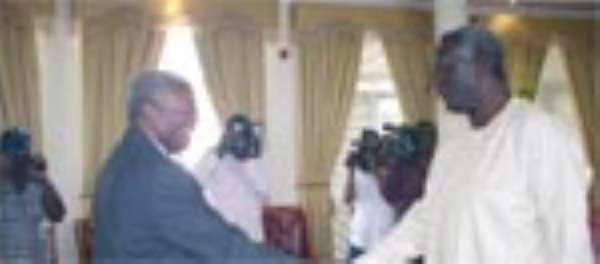 GHANA WOULD commission its first nuclear power plant by 2018.
Through this event, the possibility of Ghana adopting nuclear power to generate electricity in the country as supplement to the existing source of power generation could be achieved before 2020.
Nuclear energy has been recognized as the least cost option for electricity generation and Ghana is taking steps to explore that prospect.
In the wake of Ghana's energy crisis last year, President John Agyekum Kufuor set up a Nuclear Power Committee to prepare pre-feasibility studies on the country's chances of expanding its power generation by including nuclear energy.
The committee, chaired by Professor Daniel Adjei Bekoe, after close to five months of hard work has presented to government a roadmap for adopting nuclear power by 2018.
Prof. Bekoe in the company of the other members of the committee presented the report to President Kufuor at the Castle, Osu yesterday.
Before handing over the report, Prof Bekoe, who is also the Chairman of the Council of State, noted that the period could be shortened if adequate resources were made available on timely basis to the appropriate bodies.
He said the decision to acquire nuclear power technology would be a natural progression in the country's technological advancement.
According to him, though it would require capacity building of some sectors, the Ghana Atomic Energy Commission has already established some basic structures relevant to a nuclear power programme and the School of Nuclear and Allied Sciences could be used to support the requirements.
The escalating price of petroleum products on the world market, he pointed out, has rendered coal and nuclear energy the least cost options for electricity generation and therefore the obvious choices for expansion.
He said some 30 countries around the world, including South Africa, Brazil and Mexico, generate electricity through 440 nuclear plants.
When Ghana starts exploiting its new-found oil reserves, he said, "it will even be more economical to generate electricity by the least cost and environmentally friendly nuclear power option," so that the country can use "its oil for transportation and export".
The report will be put before cabinet and then parliament where it would be approved or otherwise after both sides of the House have deliberated and considered it.
President Kufuor, after receiving the report, gave the assurance that government would give it serious consideration. "I assure you that it would not be put on the shelves to gather dust," he promised.
Emphasizing the need for Ghana to blend energy sources and become more ambitious, the President said "By 2018, Ghana will have a basket" of sources of power generation.