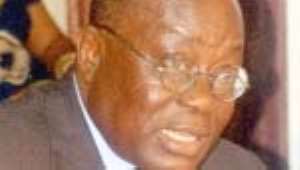 Former Foreign Affairs Minister, Nana Addo Dankwa Akufo-Addo was yesterday given the mandate to lead the New Patriotic Party (NPP) to the December 7, 2008 elections after a grueling electoral contest at the party's special delegates' congress at the Great Hall of the University of Ghana, Legon.
Nana Akufo-Addo, MP for Abuakwa South in the Eastern Region, who was described by President John Agyekum Kufuor as the 'man of the moment', defeated 16 other contestants, including John Alan Kwadwo Kyerematen, former Minister of Trade and Industry in the stiff NPP presidential race, polling 1,096 votes, representing 47.97 percent of the total votes cast, after 14 hours of voting.
Voting started on Saturday afternoon and ended in early hours of yesterday, with delegates entrusting the party's presidential ticket to Nana Akufo-Addo, 63, a lawyer and an economist.
The event, christened, 'Golden Jubilee Congress', was attended by members of the diplomatic corps, elders of the party, supporters, sympathizers and delegates from all the 230 constituencies, except Bongo, which had problems with their delegates' list.
The congress was under the theme: "Unity for Victory".
A delegate, Moses Anim from Trobu Amasaman constituency in the Greater Accra Region, described Nana as the right choice, saying that the selection was in conformity with the party's conservative tradition.
"This party is conservative in its choice of leadership," Moses said.
Not less than 2,293 delegates comprising representatives from the constituencies, overseas branches and patrons of the party voted to elect the flagbearer. However they failed to give him 'one touch' victory, as he received less than the mandatory 50 percent plus one vote, as stipulated in the NPP constitution.
Eight votes were rejected after the ballot papers were sorted out.
Mr Kyerematen, Nana's closest challenger, conceded defeat to save the election from going into a run-off, after the Deputy Chairman of Electoral Commission in Charge of Operations, Kwadwo Osafo-Kantanka had declined to declare Nana Akufo-Addo, the winner.
Alan had 738 votes representing 32.3 percent of the total votes cast.
The Vice President, Alhaji Aliu Mahama picked the third position, with a little over 6 percent (146 votes).
Yaw Osafo-Maafo had 63 votes representing, 2.76 percent; Daniel Kwaku Botwe, 52 votes representing 2.28 percent; Papa Owusu-Ankomah, 34 votes representing, 1.49 percent; and Mr Hackman Owusu-Agyemang, 28 votes representing 1.23 per cent.
Professor Mike Oquaye and Jake Otanka Obetsebi-Lamptey got 20 votes each and Dr Kwame Addo Kufuor, who was shocked at the outcome of the elections, landed 22 votes representing 0.96 percent. Dr Kofi Konadu Apraku polled 19 votes representing 0.83 percent; Prof. Kwabena Frimpong-Boateng, former CEO of Korle Bu Teaching Hospital had 12 votes representing 0.53 percent; Boakye Kyeremanteng Agyarko, 10 votes representing 0.44 percent and Felix Kwasi Owusu-Adjapong and Kwabena Agyei Agyepong had nine votes each.
Dr Barfuor Adjei-Barwuah, Ghana's Ambassador to Japan had six votes, with Dr Arthur Kobina Kennedy obtaining one vote representing 0.04 percent.
Nana Akufo-Addo expressed his appreciation to the delegates for the confidence reposed in him.
He also thanked other contestants, particularly Alan Kyerematen for giving him a good run for his money, telling him, "You will be president after me", in reference to what President Kufuor told him when he contested the President in the party's 1998 flagbearership race.
He promised not to discriminate among supporters of other aspirants, saying that he would work with all of them. "They have no cause to fear", he said.
Nana Akufo-Addo noted that the party has a good story to tell Ghanaians, promising not to disappoint them.
According to him, vilification and vendetta would not be part of his agenda in his quest to build a better Ghana.
He said the dedication and loyalty he rendered President Kufuor's administration would continue to be his hallmark as he leads the party for next year's election.
Nana Akufo-Addo promised to join forces with the 16 other aspirants to give the NDC a thorough beating.
Prior to voting, each of the aspirants was given five minutes to address the delegates.
The University of Ghana campus was a beehive of activities as thousands of NPP supporters stormed the place to rally behind their favourite aspirants.
Posters and banners were competing for space, with the skyline of the university awash with gigantic billboards.
Traders also had a field day as they took positions at vantage points to make good sales.
Pick pockets were virtually running amok, stealing mobile phones and wallets. However, one of such miscreants was nearly lynched at the Legon Hall. It took the intervention of the police to save the suspect from the irate mob.
Security was tight as police and military personnel were deployed to the university campus to maintain law and order.
By Fortune Alimi