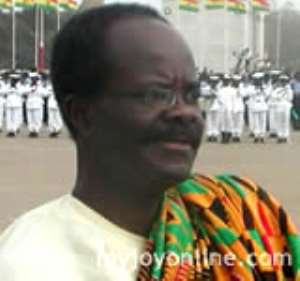 Prof. Nii Noi Dowuona, General Secretary of the Convention People's Party has counseled caution in campaigns and other activities within the party ahead of Sunday's Congress to elect executives.
Prof. Dowuona told Joy News on Thursday evening that the party had come a long way in its struggles to redeem its image from a weak party to a more credible one and all efforts must be channelled at fortifying the present renaissance.
Accra-based lawyer and presidential aspirant of the party, Bright Oblitei Akwetey, has petitioned the party to investigate his fellow aspirant, Dr. Paa Kwesi Nduom for incriminating findings established against him by the Serious Fraud Office.
According to Akwetey, it would be in the best interest of the party to dig into the issue and satisfy itself that indeed Nduom, one of the forerunners among six in the party's presidential race, is clean enough to run.
A copy of the petition obtained by Joy News and signed by Mr. Akwetey is asking the Chairman of the party to consider the 1996 Serious Fraud Office report conducted on Dr. Nduom's stewardship at the State Enterprises Commission, which among other things, cites a conflict of interest situation and an unlawful transfer of funds into a foreign account operated by Dr. Nduom.
Attached to the petition is a copy of the SFO report submitted to Parliament during the vetting of Dr. Nduom for the post of Minister of Economic Planning and Regional Cooperation.
Bright Akwetey in an interview with Joy News claimed that far from attempting to discredit Nduom and thus pave the way for his own candidature, his interest was rather to protect the larger interest of the party and reinforce its good image. In his view, all who are affected by the report should be disqualified.
"This case involves state funds that have been transferred out illegally; one Million dollars of public funds that have been transferred out illegally or fraudulently or using fraudulent means by Dr. Paa Kwesi Nduom. That is a serious case I would have prosecuted when I worked with the Attorney General's office. And it involves other issues of dubiousness, of manipulating information to take money, to take public money for one's benefit. That is an offence under the Criminal Code; it is an offence under the Public Property Protection Decree. So when we have been vetted and I didn't hear anything about this, I said to myself; but this report is damning enough for anybody who is affected or who is the subject of the report to be disqualified from participating in any race that is going to end up in somebody taking charge of public funds."