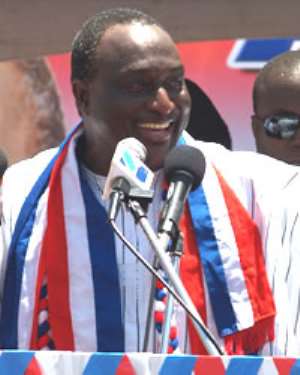 A member of the campaign team of Mr. Alan Kyerematen says claims that the NPP presidential aspirant is spending the most on his bid are mere perceptions.
Mr. Michael Ampong told Joy News that a careful observation of the other aspirants shows that people other than Alan are spending bigger sums on the campaigns to woo delegates who would select a presidential candidate for the New Patriotic Party.
"If you really want to take your time and follow the campaign of the various aspirants you will know that there are other aspirants who are even spending more than we are doing. I think what is baffling most of them is that they still don't see how we have been able to sustain our campaign and becoming stronger by the day. The key is that we have been able to put in place effective strategies, effective organisation, that is the difference between our camp and any other camp."
Mr. Ampong said it was also not true that Alan Kyerematen is using money to buy his way into the presidency, explaining that while material resources such as financial support may be required in reaching delegates with messages and plans in any election, what is vital is the human resource.
"When you go into an election, the key, it is true that you need material resources such as financial support, but then the key is the human resource and the human resource depends on the kind of message you present and how you are able to convince the people. By now it is clear that the majority of the rank and file of our party have heard all of us in terms of various aspirants and they are convinced that we have the kind of message that is capable of winning us the elections in 2008.
Asked why Alan is alleged to prefer dolling out money to delegates in his strategy, Mr. Ampong said it is a big lie because all Alan seeks to do is to reach more party people wherever he visits and that is what his opponents interpret to be his dolling out money.
"It is a big lie. You see the basic fact is this; unlike other aspirants who perhaps are looking at only the constituency executives, we believe that the strength of a party depends on the polling station executives, so we have gone beyond just meeting constituency executives by including polling station executives and as such, it has enabled us to have a wider coverage and no wonder the majority of our party people are pushing for us."