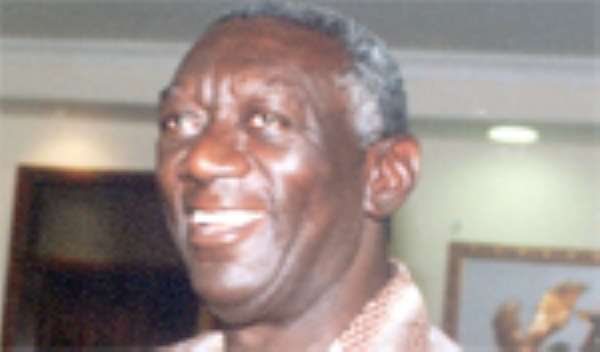 PRESIDENT JOHN Agyekum Kufuor has won an award at the 2007 prestigious Security Watch Awards ceremony held at the Abuja Sheraton Hotel & Towers in Nigeria.
The President however could not make it to the ceremony and Nana Obiri Boahen, Minister of State at the office of the Ministry of the Interior received the award on his behalf.
Security Watch Awards was established in 2003 with a noble objective of celebrating men and women who have distinguished themselves in their duties, securing lives and property of the people of Africa.
The 2007 awards, which was the 4th edition, was used to "recognize, appreciate, encourage and celebrate individuals, groups, agencies and organisations who have excelled in security administration, operations, practice and governance in Africa".
It was designed with a strong international participation, as nominees and winners from other African countries were part of the epoch-making event.
President Kufuor, in an acceptance speech read by Nana Obiri Boahen, noted that "peace and security are paramount for the survival and socio-economic development of every country, sub-region, continent and the world as a whole.
"Indeed, the paramount role of security, in every facet of human endeavours, can be better appreciated when we consider countries and communities who are faced with security challenges," he stressed.
President Kufuor reminded states that they had the principal responsibility of providing security for their citizens and the mandate to create a peaceful environment in which their citizens would be able to enjoy all their rights and freedoms.
He noted that the responsibility of providing security should be shared by the sub-regional, regional, continental and global groupings, and should not be limited to states only.
He also drew the attention of the audience to the various regions within the African continent that had been wrecked by conflicts of varied nature, stretching from North Africa across to the Horn of Africa, West, East, Central, down to the Southern Africa.
"Sadly, a new insecurity has entered every mind, regardless of wealth or status and a deeper awareness of the bonds that bind us all- in pain as in prosperity-has gripped both young and old," he lamented.
President Kufuor urged Africans to be guided and apply the lessons of history, stressing, "what we have refused to fully acknowledge and apply are the lessons that the past century have taught us".
Other high dignitaries who had been recipients of that award were His Excellency Ibrahim Badamosi Babangida, former head of state of Nigeria; Senator Anyim Pius Anyim, former Senate President; Justice Chukwudifu Oputa and Justice Olajide Olatawura, retired Justices of the Nigerian Supreme Court.
Hon. Obiri Boahen later interacted with the Ghanaian community in Nigeria at the Apapa Amusement Park in Lagos.
He informed them of the good works the NPP government, under President Kufuor, had done to place Ghana on high pedestal among the League of Nations, urged them to comport themselves by being law abiding, respectful, humble and obedient.
A reception organised and sponsored by Prof. Dr. Paul Olisa Ojeih, Chancellor, Chief Medical Director and CEO of Iris Medical Foundation, whose wife is a Ghanaian, was held in Nana Obiri Boahen's honour.
It was attended by Barrister Atiemo, a renowned Ghanaian lawyer based in Nigeria, and other top government officials.
By Wisdom Peter Awuku