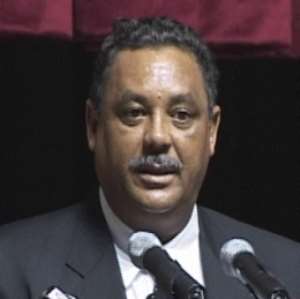 A group of NPP activists have urged delegates to consider the track record of Mr. Jake Obetsebi-Lamptey an aspirant to the flag bearership of the party and vote for him to ensure victory in next year's general elections.
The group said Mr Obitsebi-Lamptey was the only candidate who stood the chance of winning the 2008 elections because "Jake went beyond just talking of bringing the party to work with government and actually worked to achieve that.
Mr. Michael Allotey, a leading party activist from Okai Koi North and Mr. Peter Quainoo, an executive member of the Okai Koi South NPP, who were the spokespersons for the group therefore called on delegates to be wary of aspirants who only made "empty and unrealistic promises".
They emphasised the need for delegates to think beyond December 22 and vote for a president of Ghana instead of for a president of the NPP, saying delegates should be aware that the flag bearer of the NPP would not automatically be the president of Ghana in 2009 if the right person was not elected.
"Let us not forget that in 2004, after only one term, with an incumbent President and better resourced than the party had ever been, we still got only 52.5 per cent of the Presidential votes and 51.5 per cent of the Parliamentary votes," they recalled.