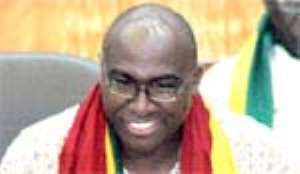 HUNDREDS OF people from within and outside the Central and Western regions trooped to the Centre for National Culture (CNC) in Cape Coast on Thursday to take part in the launch of Papa Owusu Ankomah's campaign for the New Patriotic Party (NPP) flagbearership.
The people, who included chiefs, party activists, regional and constituency executives, were clad in T-shits embossed with Owusu Ankomah's picture and danced to the tunes of Western Diamonds in a hall decorated with party colours.
By 9am, the CNC was filled to capacity while Asafo Companies and some cultural groups performed for the audience.
Papa Ankomah, who arrived in the hall around 10:30 am, was led by a "Fontonfrom" display and myriad appellations which attracted large applause and cheers from the audience.
Speaking at the launch, Papa Ankomah described himself as the only messenger among the aspirants who can disseminate the message of economic transformation.
The presidential hopeful told the audience that he was contesting the race because he represented the choice of the future, and would address encumbrances bedeviling the private sector by reducing the burden on investors to make it easier for people to do business in Ghana.
This, he indicated, would pave way for attainment of an annual investment inflow of at least two billion Ghana cedis during his term in office.
Papa Ankomah emphasised that he would tackle corruption when he gets the nod to rule the country by enforcing anti-corruption laws as well as strengthening the anti-corruption mandate of the Commission for Human Rights and Administrative Justice by giving it prosecutorial powers.
"The game of corruption will be over when I get the nod and your office will not protect you; neither will your social standing when you are caught in the act of corruption," he warned.
He described the practice of making promises that one had no intention of carrying out when given power as very bad for national morale, urging leaders to confront the truth, unpalatable as it may be, when they espouse a vision of improving on the lives of the citizens.
Papa Ankomah said NPP government has done a lot for the country in terms of development, but added that there was a lot more to be done.
The presidential hopeful appealed to Ghanaians to help him achieve his aim of transforming the country since the upcoming election was not about any of the aspirants, but about ensuring that Ghanaians benefit from the government.
Papa Ankomah, who is the former Minister for Education, Science and Sports, also pledged to work with the party hierarchy to transform the NPP by establishing a multi-million Ghana cedi endowment fund for the party to provide it with an unprecedented level of independence.
From Sarah Afful, Cape Coast