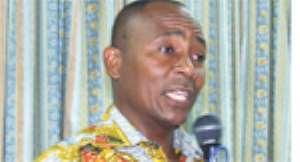 ALHAJI ABUBAKAR Saddique Boniface, Minister of Water Resources, Works and Housing last Friday caused a stir in Parliament when on a Point of Order he said some of his colleagues were not qualified to be in Parliament.
His colleagues nearly 'ate' him up as his statement did not go down well with them and they asked him to withdraw it immediately.
Mrs. Gifty Eugenia Kusi, Member of Parliament (MP) for Tarkwa Nsuaem drew the attention of the Speaker, Rt. Hon. Ebenezer Sekyi Hughes and asked him to let the Minister withdraw his statement since according to her she contested and was elected and that the same applied to all MPs.
Alhaji Boniface quickly amended his earlier statement, saying, "This is the problem I have with ambiguity. I said some of us are not qualified to be teachers."
This rather worsened the situation as members disagreed with him and insisted that was not what he meant.
The speaker, who did not want to be left out of the 'fray', told the Minister, "I was even going to ask you if I wasn't qualified as well?"
Alhaji Boniface, considering who made that statement, was compelled to say, "in that case I withdraw my statement."
The debate began when the MP for Asawase, Alhaji Muntaka Mubarak made a statement on the floor of the House regarding the future of Junior High School (JHS) students.
In his statement, Alhaji Mubarak mentioned the government of Ghana's commitment to the United Nation's Millennium Development Goals of gender parity in schools by 2005 and universal primary completion by 2015 in order to ensure education for all.
"With the deadline for gender parity already missed, the prospect of achieving Universal Primary Completion within this framework remains doubtful, given the fact that at present about 1.4 million Ghanaian children of school-going age are still not in school.
"Mr. Speaker, for the past few years, after the results of the Basic Education Certificate Examination (B.E.C.E) are released we all laugh over the poor performance of the pupils as though it is just one of those things," he lamented.
He argued that it was no longer news for a whole school not to record a pass, stressing "this is a serious issue we as a country cannot let go unconcerned."
Alhaji Mubarak stated that of about 2000 pupils in his constituency who completed JHS this year, about only 800 pupils were able to pass based on the list of score of 5 in the core subjects.
"Out of the 800 pupils who are said to have passed, less than 60% have got placement. Those who failed and those who could not get placement constituting almost 75% do not know where to turn to," he said.
Alhaji Mubarak lamented that "the recent performance of our JHS graduates is unacceptable. It is important as a country we make conscious effort to identify and deal with the issue of poor performance both in the rural and urban schools to ensure that our children at least get the basic education right."
He called for effective supervision of teachers in the classroom, adding that the supervisors ought to be equipped with at least motorbikes to enhance their work.
In response, deputy Minister of Education, Science and Sports in charge of Pre-Tertiary Education, Mrs. Angela Baiden-Amissah who is also MP for Shama, said the school placement exercise had effectively dealt with those who did not get early selection.
She said for effective supervision and motivation for supervisors, the government had given four-wheel cars to heads of some institutions.
There were contributions from Ms Christine Churcher, MP for Cape Coast, Joseph Yieleh Chireh, MP for Wa West and Edward Salia, MP for Jirapa.
By Wisdom Peter Awuku & Ethel Kangberee