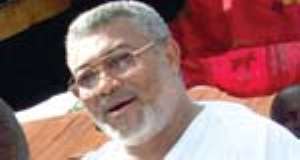 •Says Rawlings
FORMER PRESIDENT Jerry John Rawlings says he has no control over the National Democratic Congress (NDC) flagbearer, Prof John Evans Atta Mills, describing him as "a man of his own".
According to him, it was not true that he was controlling Prof. Mills, dismissing perceptions that the presidential candidate was his puppet.
He stressed that the NDC flagbearer was a strong-willed and principled man who ran his own affairs independently without any interference or imposition from him (Rawlings) or his office.
However, the Prof himself had not helped matters with his open declaration that he would consult Rawlings 24 hours a day.
The former President, who was addressing a rally to commemorate the Silver Jubilee anniversary of the 31st December Women's Movement at Madina, a suburb of Accra at the weekend, noted that Prof. Mills was physically strong after recovering from his ailment.
He said Mills' recent house-to-house campaign attested to his physical endurance.
"This is the man the newspapers said was sick. I can tell you Kufuor cannot challenge Mills in the house-to-house campaign," he yelled.
Vintage Rawlings, at the party's 'family meeting' at Coco Beach Nungua, had taken a swipe at the flagbearer for his uninspiring campaign, wondering whether Prof Mills could wrestle power from the ruling New Patriotic Party (NPP).
Rawlings, in his characteristic element, lambasted President Kufuor: "If Kufuor was wise enough, he would have adopted the 31st December Women's Movement, but instead decided to persecute the movement."
He accused the NPP government of persistently persecuting the Movement because, according to him, it was perceived to be an appendix of the Provisional National Defence Council (PNDC) or the NDC.
He stated that the 31st DWM should be given the needed support without political consideration, since its agenda was to enhance the status of women in society.
Prof. Mills, on his part assured Nana Konadu and her supporters that all the 'wrongs' meted out to them would be corrected and said a time would come when all women would march on men to demand recognition.
He commended the Movement for the success it had chalked and urged all women to push forward their developmental agenda.
Mrs. Rawlings said the movement, which began on a humble note, had chalked a lot of successes to the extent that it was being recognized internationally.
According to her, so far, 47 District Hospitals and 10 Dental Mobile Hospitals and over a thousand schools had been provided by the Movement in various deprived communities.
She said the movement did not accomplish its feats on a silver platter, but through hard work and dedication and urged the women, especially the newly inducted members to contribute their quota to the socio-economic development of women in general.
Mrs. Rawlings accused the Kufuor administration of harassment and said such negative tendencies would rather polarize the nation.
The special guest of honour was Dr. (Mrs) Mary Grant, who urged the media to refrain from making a mockery of one's ailment, since no one was immune to sickness.
She was making reference to Prof. Mills' condition of health which had been the subject of controversy in media circles recently.
"To harness the enormous potential, energy and creativity of women as well as enable them acquire skills including entrepreneurial training, hundreds of self-financing and self sustaining project have been established."
Dr. Grant urged the women to consider it as a challenge to identify their own needs and establish their priorities to supplement their house budgets.
The 31st December Women's Movement was established on May15, 1982 with Mrs. Rawlings as its life president.
Nana Oye Lithur, the Regional Coordinator of the Commonwealth Human Rights Initiative (CHRI) said women's rights movements throughout the world had helped to improve the lot of women.
Nana Oye, whose husband, Tony Lithur is the solicitor to Mrs Rawlings, advised Government to do more for women especially in health care delivery.
Party stalwarts at the programme included the NDC Chairman, Dr. Kwabena Adjei; Alhaji Mumuni, a former running mate to Prof. Mills in the 2004 Presidential election; Mr. Akwasi Ampofo, NDC Organiser; the Women's Organiser, Mrs. Ama Benyiwa-Doe; Ms. Sherry Ayittey; and Alhaji Amadu Sorogho, MP for Madina/Abokobi Constituency.
There were representatives of the Movement from the Ashanti, Brong Ahafo, Eastern and Central Regions.
The Madina Zongo branch of the Movement has Hajia Salma as its chairperson.
The function was chaired by Mrs. Victoria Addy, an astute Lawyer.