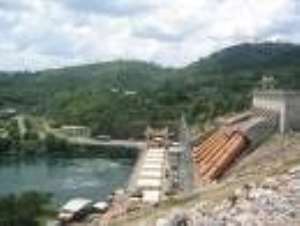 Weather experts in the country have hinted that the nation's major hydro power generating dam could be forced to shut down its operations if the country did not experience rainfall in the northern sector by mid-year.
"Should the current 0.07ft daily drop in water level persist, Akosombo Hydro-electric Dam may be forced to stop the turbines," a top official at the Ghana Meteorological Agency (GMA) said.
He predicted that the level of water at the dam could rest below 232 feet, instead of the preferred minimum operating level of 247.
Businesses were warned about the situation earlier, when the dam reduced its capacity to a little above 60% in the third quarter of 2006. But that resulted in higher operational cost.
Some businesses say they spent up to ¢300 million acquiring emergency power plants, besides spending extra ¢10 million fuelling the plants.
Government officials have however focused on pushing for the West African Gas Pipeline (WAGP) project, launched a few days ago, to resolve the nation's acute power problems.
Ghana is expected to use much of Nigeria's natural gas to run its thermal plant facilities instead of relying on crude oil a move aimed at cutting cost to produce electricity to meet its industrial and domestic demands later in the year.
However, Tsatsu Tsiame, a renowned weather forecaster, in a telephone interview with City Business Guide in Accra predicted that the country would be experiencing more rains in the northern sector of the country, beginning May to August.
He noted that it would ease to rain in the northern sector of the country between September and October.
Mr. Tsatsu advised the government to start using small rivers for hydro-power to cater for small villages.
For now, the nation has to contend with harsh weather, which is threatening its water bodies and eating up energy sources.