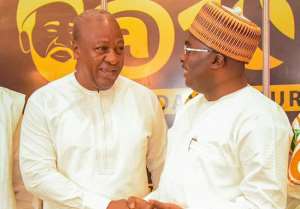 I have observed with grave concern the ongoing discourse among the revered alumni of Ghana Senior High School (GHANASCO) and Tamale Senior High School (TAMASCO) regarding the potential leadership qualities of former President H.E. John Dramani Mahama and Vice-President H.E. Alhaji Dr. Mahamudu Bawumia as it has ignited a spirited debate. However, amidst this dialogue, a crucial call emerges in my personal opinion to assess leadership based on competence rather than school affiliations.
It's noteworthy that former President John Dramani Mahama, a distinguished figure in Ghana's political landscape and a leader of the largest opposition National Democratic Congress (NDC) party , is an alumnus of Ghana Senior High School (GHANASCO), while Vice-President Alhaji Dr. Mahamudu Bawumia, another significant political figure and leader of the governing New Patriotic Party (NPP), attended Tamale Senior High School (TAMASCO). The allegiance to one's alma mater often plays a role in supporting candidates, but the focus should transcend such biases towards a more inclusive evaluation of leadership capabilities.
Ghana, as a nation, stands at a pivotal juncture, grappling with multifaceted challenges spanning economic stability, healthcare, education, infrastructure, and governance. Hence, the need for a leader who possesses the acumen, vision, and determination to navigate these complexities and steer the country toward progress.
The discussions among alumni associations of GHANASCO and TAMASCO have sparked a broader national dialogue about the fundamental principles guiding the selection of leaders. It's imperative to move beyond personal affiliations and prioritize qualities such as experience, vision, and dedication to national development.
The emphasis now resonates with Ghanaians across the country and the influential alumni of both GHANASCO and TAMASCO: the search for leadership should prioritize meritocracy over school ties. The collective effort to identify a leader who embodies a commitment to inclusive development and national prosperity is paramount.
The upcoming elections beckon a critical moment for Ghanaians to rally behind a leader whose competence aligns with the country's aspirations. This transcends the alma mater of the candidates and focuses squarely on their ability to navigate the complexities of governance and foster progress for all.
In conclusion, my call is for Ghanaians, regardless of educational backgrounds and alma maters, to unite in seeking a leader whose vision, competence, and dedication resonate with the needs and aspirations of the nation.
Written by:
Adam Abdul-Fatawu Wunizoya
Freelance Journalist, Tamale-Ghana
[email protected]