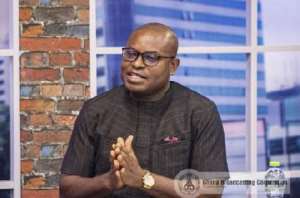 Richard Ahiagba, National Communications Director of the NPP
The National Communications Director of the ruling New Patriotic Party (NPP), Richard Ahiagba has called out the opposition NDC for being hypocrites.
He said the NDC always does the opposite of what it preaches in the public.
The ruling party's communicator was reacting to the NDC's parliamentary leadership shake-up — noting that the move will be detrimental to the party electoral fortunes.
Following the decision to replace key persons such as Mr. Haruna Iddrisu with Ato Forson as the Minority Leader and also Mutaka Mohammed with Kwame Agbodza Minority Chief Whip, some members of the party have gone berserk.
They have since been protesting the decision of the leadership of the party for what they described as unfairness and needlessness.
In reaction, Mr. Ahiagba noted that the lack of consultation from the NDC leadership before the reshuffle and the aftermath issues will cost them their Tamale South, Ketu North and Asawase parliamentary seats.
In furtherance, Mr. Ahiagba asserted that the shake-up will divide the NDC and weaken its zeal to win the 2024 elections.
"The NDC should kiss the Tamale South, Ketu North, and Asawase seats, and the 2024 Presidential elections, goodbye. The NDC preaches virtue and practices vice," his tweet reads.