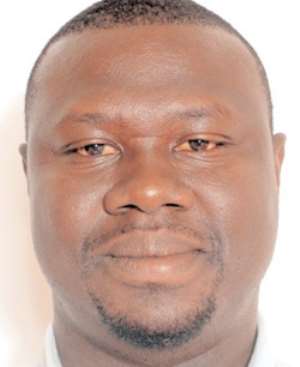 Much water has passed under the bridge since President Ogwanfunu's shocking and humiliating defeat at the hands of then Candidate Nana Dee. We all saw how Candidate Nana Dee gave President Ogwanfunu devastating punches, which sent him crushing to the canvass. He left the electoral ring with a battered face and an uninspiring mouth-twisting 'e dey be keke'.
One could liken the Ogwanfunu-Nana Dee contest to the first Dogboe-Navarrete fight. With no intention to lampoon Dogboe, we all saw how Navarrete gave him a very sound beating. Champion Dogboe was practically clueless as he received devastating punches, which ended up disfiguring his face.
​Though Dogboe and his father, who doubled as his trainer, accepted defeat, they gave the excuse that Dogboe underrated his opponent. A very defiant Dogboe insisted that a better preparation could guarantee him a win in the second fight. With an uninspiring 'NEHO' chant, he left the ring with a puffy face hoping for a successful comeback.
I watched the fight over and over again to convince myself that indeed Isaac Dogboe had underrated his Mexican opponent. But the more I reviewed the fight, the more I realised that Dogboe would regret if he went for a return fight.
The much-anticipated and much-talked about rematch took place some five months later. While Dogboe tried to inspire hope in his compatriots, many were those who knew the outcome wasn't going to be any different from the first.​ ​ ​
​​We all saw the outcome, didn't we? Unlike the first, Dogboe could not finish the fight as he was beaten courtesy to a technical knockout (TKO). The defiant 'NEHO' chanter was once again on the losing end.
A similar scenario played out in the Ogwanfunu-Nana Dee contests. After receiving a merciless beating at the hands of Candidate Nana Dee, President Ogwanfunu resorted to drinking the infamous Onaapo Bitters to aid the healing process.
​Indeed, the bitters worked wonders as it helped the puffy-looking Ogwanfunu to lose weight, thereby helping in his speedy recovery. But the potion's main side effect is that it serves as a hallucinogen, thereby making users hallucinate. In the case of President Ogwanfunu, it kept him in a state of denial as he struggled to come to terms with his embarrassing 2016 defeat.​ ​ ​
​It was, therefore, not surprising that he tried in vain to ride on the back of the irresponsible hacking comments by Referee Charlotte Osei to discredit the 2016 polls. But we knew better because the electronic transmission of results was not the main mode used for the 2016 polls. The mode used was the manual transmission system. So, unless a person was under the influence of a hallucinogen, it made no sense talking about hacking a manual transmission system.
Just like the Dogboe-Navarrete fight, a rematch did not yield a different outcome between President Nana Dee and Mr. Dead-Goat in 2020. He received another merciless beating at the hands of President Nana Dee. Once again, the infamous Onaapo Bitters came to the rescue, but not without its side effect.
​His hallucinatory target, ​ ​this time, was Jean Adukwei Mensa, the chair of the country's Electoral Commission (EC). He rejected the presidential result and contested it in the Supreme Court (SC) with no evidence to support his claim. The SC threw away his application, and the judiciary has since become his number one enemy. No wonder he uses the least opportunity to attack the Justices of the SC.
From his utterances, it is obvious Mr. Dead-Goat seeks to resurrect in 2024. But his corruption baggage and lack of candour on the country's current economic situation could be his nemesis. On international platforms, he accepts the theory that the dreaded COVID-19 and the Russia-Ukraine war have had a debilitating effect on many economies including Asomdwekrom; but quickly makes a U-turn and accuses the Nana Dee administration of bad governance when speaking to the local media.
Yes, times are hard. But many of us know it could have been worse if Mr. Dead-Goat had been in-charge. Indeed, evidence shows that he did a very bad job at managing the economy even without external shocks.
It is worth noting that Dogboe has recovered from his two losses to Navarrette and gone ahead to win his subsequent fights, but yet to win another title. Mr. Dead-Goat might have recovered from his second loss to President Nana Dee, but can he resurrect in 2024?
Frankly, I cannot tell. But I have a hunch Dogboe winning a world title before December 2024 may spell a good fortune for Mr. Dead-Goat. In my mind's eye, I see their destinies intertwined like that of Siamese twins. Time will definitely prove me right or otherwise!
​See you next week for another interesting konkonsa, Deo volente!