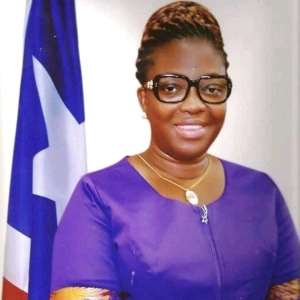 Williametta E. Saydee-Tar, Social Protection Minister
At the opening session of the ongoing West African Baptist Women Union Conference being held at Ricks Institute, Brewerville, Virginia, Montserrado County - Gender, Children and Social Protection Minister Williametta E. Saydee-Tarr told delegates that women are the cornerstone of any nation and they should keep using their voices to advocate for the right things to be done.
She welcomed the delegates on behalf of His Excellency, Dr. George Manneh Weah, the First Lady, Her Excellency, Ambassador Clar Marie Weah, Vice President Chief Dr. Jewel Howard Taylor, and the Government of Liberia
"I would like to welcome all of you to Liberia for this 11th Biennial Conference of the Baptist Women Union of West Africa. It is our prayer that God will keep you all safe and allow this conference to be successful and that He, our Lord and God, will take the honor as we all joyously return to our various destinations". The Gender Minister said.
Minister Saydee-Tarr expressed delight to have delegates from across Africa and the United States of America to join Liberia at the point in time which coincides with the country's Bicentennial Anniversary. Commenting on the Baptist Church historical ties with Liberia, the Minister said Liberia has a deeply rooted history with the Baptist Church. She asserted that when the first American freed slaves, led by members of the American Colonization Society, landed in 1822 on Providence Island at the mouth
of the Mesurado River, the Providence Baptist Church – also established in 1822 - played a very significant part in the history of Liberia as a nation to gain independence in 1847.
She informed the delegates that the country's declaration of Independence was signed in the edifice of the Providence Church, which is a National Shrine. There, also, the original constitution of Liberia was debated and the national Flag was made. According to Minister Tarr, with a growing missionary impulse, the Triennial Convention, mission-minded Baptists soon saw Liberia as a viable opportunity for service. The story of Baptist missionaries who evangelized Liberia began with the conversion of two Virginia slaves, Lott Carey and Colin Teague, who both began God's work through the Providence Baptist
Church.
"As a country deeply rooted with Christian principles through its formation, it is our prayer that your stay here shall be fruitful and that God will touch the lives of each and every one of you as He blesses this nation, Africa and the world". The Minister added.
She beseeched delegates to remember each other in prayer within the West African region especially Sierra Leone.
The 11th Biennial conference which has brought together hundreds of Baptist women from Across West Africa is being held under the theme: Understanding Life and Living Abundantly.