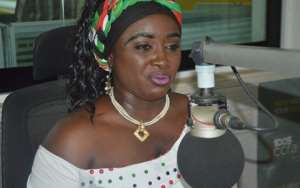 The National Women Organiser for the National Democratic Congress, Dr. Hannah Bisiw has taken a swipe at the Akufo-Addo government following what appears to be weekly fuel price increment.
She said nature has exposed the insincerity of the ruling New Patriotic Party (NPP) government particularly the economic Messiah Vice President, Dr. Mahamudu Bawumia who made several promises to address the economic hardship.
According to Dr. Bissiw, the then NPP running mate in the 2016 elections held series of lectures across the country, telling Ghanaians that fuel price hikes were a result of the incompetence of the then NDC government.
"He was seen speaking to market women and teachers to vote against the NDC because we could not reduce fuel prices lower to reduce the prices of food and other services," she pointed.
Fuel prices in Ghana have been increased again after last a similar increment last week.
It would be recalled that the Executive Director of the Chamber of Petroleum Consumers (COPEC), Duncan Amoah earlier in October expressed fears that the movement of forex could further cause the price of fuel to increase to at least GH¢7 by the end of the month.
While insisting the taxes imposed by the government on petroleum prices continue to play a significant role in the rising cost of fuel in the country, he said efforts must be made by the government to address the situation to bring relief to citizens.
"We can get to GH¢ 7 by end of October. If we are doing about GH¢ 6.8 for the projection, we are just about 14 pesewas shy so by the close of the month which is the first window in November if the trend continues and the cedi comes under the kind of pressure you will normally see towards the last quarter because of the pressure from importation, I do not see how GH¢ 7 is not possible before November," he told newsmen.
Due to this call, and several others, the President approved a proposal to zero the price stabilisation and recovery levy (PSRL) on petrol, diesel and liquefied petroleum gas (LPG) for two months, last week.
This approval, according to government was a measure by the President to cushion consumers against soaring fuel prices in the country.
But the NDC National Women Organiser speaking on Accra based Ahotor FM said Dr. Bawumia knew the government did not have direct control over the prices of petroleum products, "yet lied to Ghanaians and incited them against the NDC government."
She continued, "When we were leaving office, the price of a gallon of petrol was around GHS 14.00 but today, under those who said they were competent and could do better than us, the price keeps soaring higher," she lamented, asking Dr. Bawumia, who led the attacks on the erstwhile government to apologize to Ghanaians after "being exposed."