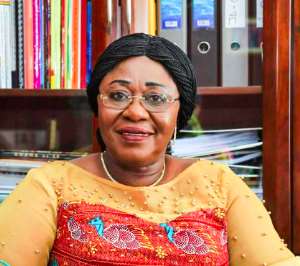 As fruitless attempts are made by some unscrupulous persons to drag the hard-won stainless reputation of Madam Akosua Frema Osei-Opare into corrupt activities, it is important to bring to the fore the personality of Auntie Frema and how her sterling performance as the Chief of Staff at the office of the president in the last five years has propelled the forward march of the presidency of His Excellency Nana Addo Dankwa Akufo Addo and the NPP government for that matter.
It is worth noting that key virtues of Auntie Frema such as discipline, selflessness, dedication, timeliness, honesty, impartiality, commitment and loyalty to the cause of the president and the NPP, her benevolence to vulnerable women in particular and the downtrodden in general over the years culminated into her appointment as the first female chief of Staff of Republic in 2017 and also her reappointment in 2021 for the second term presidency of Nana Addo.
It is imperative to know that Auntie Frema within her over 40 years of political experience, has never been corrupt and neither has she been fingered in any corruption scandal. It therefore comes as a surprise that some unscrupulous individuals would make such an infantile attempt to malign her undented image by describing her mandated role of approving the auction of public sector vehicles as unlawful. It is very instructive that Auntie Frema in approving the auction of government vehicles acted within the purview of the law in her capacity as the Chief of Staff at the office of the President of the Republic of Ghana and never violated the procurement laws of the country as alleged by Rockson Nelson Defeamekpor, MP for South Dayi.
It must be stated clearly without any shred of equivocation that the function of approving public sector auctions has effectively been taken over by the Office of the President since 1993 . It is trite knowledge that Auntie Frema is not the first Chief of Staff to assume this function in this 4th Republican dispensation as it has been the practice since 1993 . Attempts to link her to corruption are not only unfounded and frivolous but also needless to say the least. It must be emphasized that it is not in the nature and being of Auntie Frema to amass wealth to warrant a covert auction of public sector vehicles or properties for her personal gratification.
Akosua Frema Osei-Opare continues to be the beacon of hope for young female politicians across the political divide of the country. She has essentially carved a niche for herself as the trailblazer female chief of Staff of the Republic of Ghana.
By Kwaku Tinyase KTee