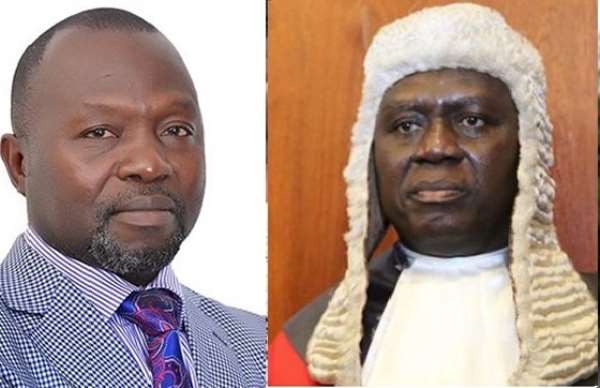 The Minority Caucus in Parliament has called on Chief Justice Kwasi Anin-Yeboah to reconsider his petition to the Disciplinary Committee of the General Legal Council asking for Dr. Dominc Ayine to be investigated.
The Chief Justice in a petition from the office of the Judicial Service signed by its Secretary Cynthia Pamela Addo wants the Member of Parliament for Bolgatanga East to be investigated for comments made during a panel discussion on Presidential Election Petitions and their impact on Africa's Democracy.
In the petition, Dr. Ayine is accused of questioning the independence of the Judiciary due to the manner the Supreme Court adjudicated the 2020 election petition.
In reaction, the National Democratic Congress (NDC) MP's in parliament have released a statement describing it as an attack on democracy and free speech.
"Dr. Ayine as an academic and legislator was making one of those contributions to the deepening of democracy, rule of law, and frontiers of jurisprudence generally, rather than an attack on the Judiciary.
"We, therefore, consider the petition a "disproportionate interference" with his rights to freedom of expression and therefore not necessary in our democracy," part of a release from the NDC Caucus in Parliament has said.
The Minority Caucus in Parliament insists that they find the move to be in utter bad faith and meant to be an attack on free speech on Parliament, as an institution, and also an affront to democratic and academic freedom.
"We, therefore, call on the Chief Justice to reconsider his request to the Disciplinary Committee of the General Legal Council to investigate the alleged statements made by Hon. Dr. Dominc Ayine in the interest of peace, national cohesion and to safeguard our democracy."
Below is the release from the Minority Caucus in parliament: