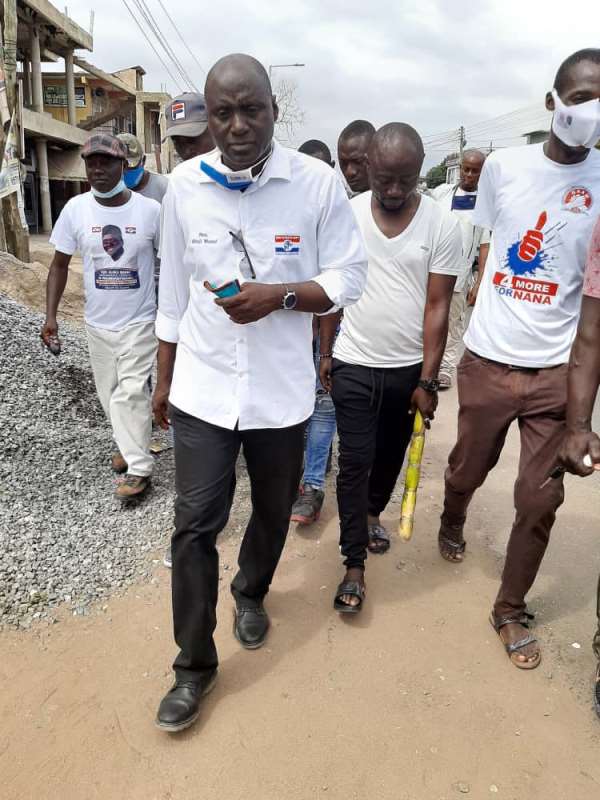 Alhaji Manaf and his entourage during the tour
The NPP in the Ayawaso North Constituency, has kicked start a campaign dubbed operation capture Ayawaso North seat.
This, according to the the party's Parliamentary Candidate (PC) for Ayawaso North, Alhaji Mohammed Manaf Osumanu, they will never rest until the seat is captured from the National Democratic Congress (NDC).
"Taking the parliamentary seat from the NDC, Alhaji Manaf emphasised" is the main priority of the NPP in Ayawaso North.
The PC, together with the Constituency Executives and the Party Faithfuls of Ayawaso North, walked on the streets of Ayawaso North Constituency, chanting the name of President Nana Addo and Alhaji Manaf to the admiration of all, while posting stickers and posters of the President, Nana Addo and the Parliamentary candidate, Alhaji Manaf, to signify victory in the 2020 election.
The constituents were also educated on the need to conduct peaceful electioneering campaign devoid of any tensions in the constituency.
The PC also propagated the good works and achievements of the NPP under President Akufo-Addo to the people. He urged the people to vote for the NPP in both the Presidential and Parliamentary elections in December.
They also educated the constituents, and never forgot to bring the good works of the President, Nana Addo, afore
According to Alhaji Manaf Osumanu , there was the need to vote for a change in Ayawaso North Constituency, as there was no more hope in Ndc.
He added that Ndc had occupied the parliamentary seat for 28 years but performed abysmal in the Constituency.
The performance of Ndc within that 28 years was woefully insatiable, as they couldn't fulfill their promises. They had also failed to develop the Constituency as expected, the PC added.
Responding to some of the constituents who said they didn't see any change in the Constituency for the past years, Alhaji Mànaf assured them of positive change in the constituency if they give him the nod, which he believed they would entrust the constituency in his care.
He was optimistic that with the support of President Nana Addo, Ayawaso north would have a new outlook in addition to a unique image and focus. He also assured them of development and progress in the constituency when he becomes the MP.
Some members of the Ndc who defected to Npp in the Constituency, appealed to Alhaji Manaf to make Ayawaso North better than before with opportunities for the youth, which the PC responded in affirmative.
When he made a stop at Maamobi market, he educated them on the need to observe the Covid 19 safety protocols. He also presented to the market women some liquid soaps and hand sanitizers.
To expressed their appreciation for the kind gesture, the market women, led Alhaji Manaf round the market amid singing, clapping and dancing.
He appealed to the market women to rally behind him and the President, for better Ayawaso North and better Ghana.