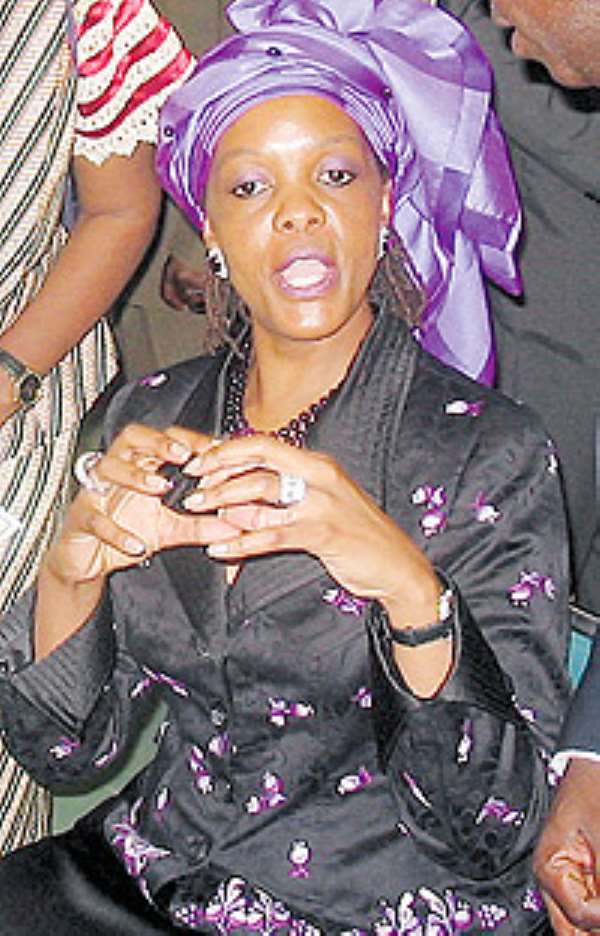 Grace Marufu Mugabe, wife of President Robert Mugabe. The Government built her a mansion worth Sh800 million.
A police inspector led the dawn raid at the Midwest Herald, leaving behind a trail of destruction and intimidation at the Lagos-based paper.
Among the things the invasion squad carted away was its publisher, Mr Omboso Omo-Ojo. The police cited the standard "orders from above" excuse for last year's May storm at the private enterprise.
The orders were not from Nigeria's police commissioner. They were not from the minister in charge of internal security either. They were actually from a housewife with no elective office or constitutional authority. But it was indisputable she wielded real clout. It would have been a foolish career move for the officers to pretend to follow the laid out command chain.
Mrs Stella Obasanjo had ordered the raid. The paper had incensed her with a daring headline and a story that linked her to an opaque sale of government houses. Apparently she had no time for court redress over the "Greedy Stella" story if she felt falsely scandalised. She opted to pull her rather exalted rank.
Stella, who died of complications from a plastic surgery in the Spanish vacation town of Puerto Banus last October, was the wife of Nigerian President Olosegun Obasanjo. She was not the only spouse of the open polygamist.
But through a high profile and oft-controversial public life, she had crowned herself the first among equals in the President's harem. She even banned wives of governors in the federal republic against ever addressing themselves as "Her Excellency". The title was to be reserved for her exclusive use.
Her efforts bred prominence and notoriety. By flaunting her marital connection, it is alleged Stella amassed a massive personal fortune. She could thus afford a botched tummy tuck surgery and a Sh40 million mansion in Brooklyn, New York, as a birthday gift for her only son, Mr Olumuyiwa Obasanjo.
The path she had taken was well beaten. In its December 16, 2004, edition, the Economist, quoting a phrase it said originated from "politically incorrect Nigeria", bemoaned the country's endemic use of "bottom power". Wives and girlfriends in Africa's most populous nation are notorious for exploiting pillow talk with powerful men to carve out fiefdoms that, at times, rival the influence of the husbands or boyfriends.
"Behind every African Big Man has been a substantial woman," the respected international magazine concluded. In a continent where formal leadership structures are often weak, the gamut of the power-men might run from the ruling party apparatchik to a minor town mayor. But nothing epitomises the excesses of the politician's wife than the First Lady.
It is bad enough when the ladies preoccupy themselves with skimming state resources. But often, the plunder is accompanied by a brazen display of power that has been known to manifest itself as state repression and occasional jailing or deaths of opponents, real or imagined.
These women, whose titles are often not constitutionally recognised, become the perfect symbol of what is wrong with the regime of their men. Unlike the latter, they are not elected and are therefore not answerable for their actions even when they engorge themselves with public wealth. The only way to spare the nation of their indiscretions is by kicking out of office their partners.
On May 3 last year, Kenya's own First Lady, Lucy Kibaki stormed a leading Media House in the dead of night to protest against "negative" reporting about her, the President and the First Family. In between giving a tongue lashing to the journalists she found in the newsroom, she allegedly assaulted a photojournalist — an act that has so far gone unpunished.
Zimbabweans, for instance, believe Mrs Grace Marufu chronicles the growing intolerance and primitive accumulation habits of her husband, President Robert Mugabe. When coup plotters stormed Niger's presidential mansion in 1966, they spared President Hamani Diouri but assassinated his wife, Aisha. They had no doubt about the real author of the regime's excesses.
The extremes of Mrs Cecilia Kadzmira, former Malawian President Kamuzu Banda's concubine, reviled voters so much that they voted out her uncle and Banda's preferred successor, Mr John Tembo. Among the reason why Mr Jerry Rawlings failed to foist Mr John Atta Mills as his chosen heir in Ghana is because the electorate was wary of the clout of his wife, Mrs Nana Agyeman.
At the height of his murderous excesses, Rawlings publicly confessed there was only one person who could contain his runaway temper: his wife Nana. In Swaziland, King Sobhuza II named his senior wife, Queen Dzeliwe Shongwe — nicknamed the Great She Elephant — a joint Head of State in 1981.
In Malawi, inspired by the guiles of Cecilia, who went by the rather strange title of Official Hostess, President Banda banned a popular hit by the British group, Simon and Garfunkel, that went by the same title. The song had made the mistake of lamenting another Cecilia's hold on a lover's heart!
From a petty secretary of limited education, Cecilia slept her way to Banda's heart and fortune. He solely bequeathed her — or so the contested will of the senile former President read — his multi-million empire. She had even convinced Banda to anoint her uncle, former State minister Tembo, as his preferred successor. The plot however ended in court when Mr Bakili Muluzi won the presidency and uncle and niece were prosecuted for murder.
To be fair, it is not always a tale of rapacity by the First Ladies. Some like Mozambique's Graca Machel were and remain women of dignity, the trappings of the State mansion not withstanding. At least 40 of them are in OAFLA, the Organisation of African First Ladies Against HIV and Aids.
There is no gainsaying the First Ladies' hold on a country's political pulse. They breathe reality into the ideals of the perfect marriage of power and motherhood or what posh gender activists call "femocracy." Where restraint is exercised, they have proved to be powerful symbols of women's emancipation.
But the speck of good is often lost in the log of accumulation of personal riches and wanton pull of power strings. The norm has been to form seemingly charitable organisations usually dedicated to women's emancipation but that end up being mere fronts for grand theft and diversion of resources for material queendom.
Whether Mrs Rawlings' 31 December Women's Movement — named after the date of her husband's second ascension to power —, Maryam Babanginda's Better Life for Rural Women Project, Maryam Abacha's Family Economic Advancement Programme or Cecilia's Chitukuko Cha Amayi M'Malawi (Development of Women in Malawi), the First Ladies' inventions have left more questions on accountability than evidence of obvious good.
By pulling the strings from the bedroom, the First Ladies are often able to attract substantial funding to their brainchildren that other civil organisations can only envy. But the prudence of concentrating resources on what are in reality, private aggrandisement fronts has itself been a subject of controversy.
Writing for the Flame, an interactive women's magazine, Ferial Haffajee posed: "Is the African First Lady help or a hindrance to women's advancement? …The First Lady syndrome in Africa is an obstacle to gender advancement, say women activists. They also complain that donors favour first lady programmes, despite the fact that they are not sustainable. Vera Chiluba's Hope Foundation in Zambia, Nana Rawlings' December 31st Movement in Ghana and Obasanjo's children's programmes are the beneficiaries of millions of donor dollars."
Even where the First Ladies' intentions are noble, the fluidity of politics often imperil the continuity of their projects once there is a change of guard at State House.
In Nigeria, the differences between former co-conspirators-turned-foes, military presidents Ibrahim Babanginda and Sani Abacha, found matriarchal vents in their respective wives.
So rancorous was the relationship between the women that when Abacha dethroned his handpicked predecessor, his wife embarked on a deranged mission to erase the memory of Mrs Babanginda from the country's history by frustrating any organisation remotely linked to her. To amplify the new First Lady's presence, her daughter set up an ingenious edifice: the Office of the First Daughter.
As a fitting synopsis of the accumulation mania afflicting the continent's First Ladies, the Internet is replete with con artists looking for gullible types greedy enough for a piece of the pie.
"My name is Mrs Maryam Abacha, the wife of the late Head of State of the Federal Republic of Nigeria. I got your contact through the listed postal address in your country.
"It is four years since my husband passed away and the tight grip on my husband's assets both home and abroad is now telling on the family, since the new civilian regime came into place.
"I am now in urgent need of a partner/confidant through whom I can deposit some money in his/her bank account…."
There are similar scam appeals from impersonators of Stella, Mrs Babanginda, Mrs Rawlings and even Mrs Chiluba or their kin. The purported fortune is in millions of dollars. Though likely an exaggeration, the actual personal wealth claimed by the women is believed to be equally in the stupendous league.
The lucre is not the product of exceptional thrift. The wives of the presidents are believed to have ravenously exploited the bedroom to etch financial empires well beyond honest labour. When Abacha died — allegedly of a Viagra overdose amid trysting with imported lovers —his wife was caught at the airport with scores of dollar-stuffed briefcases.
Yet the greed of First Ladies is not a unique African malady. The "Steel Butterfly" of Philippine, Mrs Imelda Marcos, is perhaps the best living incarnation of the plunder of a nation's resources by beings with no other qualification than sexual liaison with the Big Man.
A woman of exquisite physical beauty, Imelda, who at one time reigned as Miss Manila, was the wife of Philippine dictator Ferdinard Marcos, whose corrupt regime was swept out of power by a popular revolution in 1986.
When crowds stormed the deserted presidential mansion in Manila, they found at least 3,000 designer female shoes, including a pair with a three-inch battery inserted in its sole. It was Imelda's dancing shoe with in-built neon lights to colour the dance floor.
Confronted with her ostentation in a country where 60 per cent of the population was living under a dollar a day, Mrs Marcos lamented the numbers were grossly exaggerated. By her last count, she had only 1,536 pairs!
Then there was Elena Ceausescu, the wife to Romanian strongman Nikolai Ceausescu. During the 1989 trial of the First Family that was caught fleeing a people's uprising, she famously chided her prosecutor for daring to ask her age. It was bad manners, she said, "to ask a lady how old she is."
Elena was believed to have been the real power behind the throne and was personally blamed for the regime's bloodbaths under the country's famous secret service whose experts are known to have trained the torture experts of the Nyayo House dungeons.
To atone for the shame of an expulsion from a Chemistry class for exam-cheating, Elena, who flunked her junior secondary education, awarded herself or coerced colleges into granting her a string of Science degrees. At the time of her execution, she held two honorary doctorates in Polymer Chemistry.
Africa has its own living answer to Imelda as far as obsession with shoes is concerned. Mrs Grace Mugabe wears only Ferragamo designer shoes because, as she snapped back at her critics, she has "very narrow feet." She can only wear shoes that cost the annual salary of a high school teacher in poverty-stricken Zimbabwe.
The former junior secretary needs stylish shoes to match her trademark luxurious accessories that include Sh25,000 Christian Dior sunglasses and her Sh3.5 million Rolex watch.
She is sarcastically referred to as the First Shopper as a tribute to her spending binges. Her husband's love for foreign travel has earned him the nickname Vasco da Gama or the Visiting President. Since the President's appetite for jet setting blossomed after the death of his scholarly-inclined and respected Ghanaian wife, Sally, and subsequent formalisation of his erstwhile clandestine relationship with Grace, his motivation is rather apparent.
Grace has been known to spend Sh56 million on a single afternoon spree in Paris. The European Union and US-imposed travel ban, slapped on her and her husband, has bought reprieve for Air Zimbabwe. The First Couple now finds fewer reasons for ordering it to disembark its booked clients to free its planes for another foreign trip for the Mugabes.
Among her alleged excesses is a sprawling maisonette in Harare dubbed Gracelands. The High Court ruled the property had been illegally financed from government coffers. To stem public attention on her 30-room residence, she sold it to the Libyan government and had the state build her a new palace estimated to have cost Sh800 million.
The couple is known to have been eyeing a Scottish vacation Castle before the British-led demonisation of Mugabe condemned it to pariah status. To hit back, an angry Grace is alleged to have assumed ownership of at least two farms repossessed by the State from mainly white farmers.