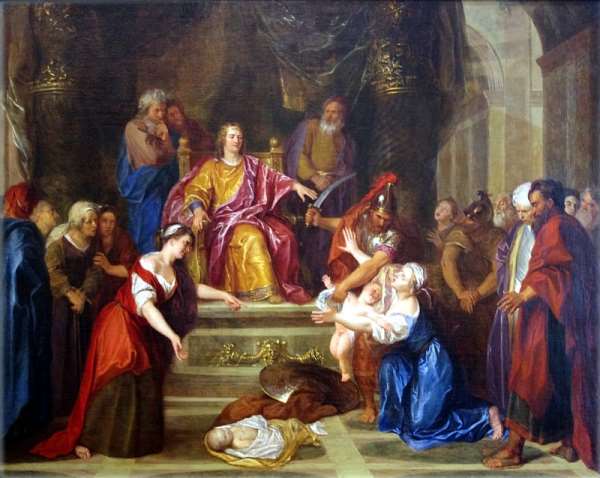 Would you ask for wisdom if God were to appear to you in a dream and told you to ask for whatever you wanted? The reluctance to ask for wisdom may be understandable. Wisdom does not directly put food on the table, pay rent for the room/apartment or mortgage on the house, buy clothes, pay school fees, or pay hospital and other important bills. Instead, many may ask for such things as money, wealth, power, prestige, position, fame, good health, spouse, children, and long life, among others.
King Solomon was a lucky man. Or, better stated, he had a good measure of God's grace and mercy. Solomon had a dream. It was the kind of dream all of us dream about having. Not long after he became King of Israel, the Lord appeared to him in a dream at night and told him to ask for whatever he wanted. Solomon asked for a discerning heart to govern the people of Israel and to distinguish between right and wrong. The Lord was pleased with Solomon's request. The Lord said that because Solomon had not asked for long life, wealth or death of his enemies, he would grant him a wise and discerning heart so that no one before or after him would be like him, plus riches and honor above everyone else in his lifetime, including long life if he obeyed the Lord (1 Kings 3:5-15).
Consequently, Solomon received from the Lord wisdom, very great insight, and immeasurable understanding. He was wiser than any other person, and people from many nations, including the Queen of Sheba, went to listen to him (1 Kings 4:29-34; 10:1-13).
All those endowments were by the grace of God because Solomon did not start out that way. His father, King David, appointed him as his successor over his older brothers. As a new king of Israel, Solomon seemed to be heading the wrong way. For example, he dishonored his mother and the house of the Lord in the acts of punishing by death two people mentioned below.
King Solomon ordered the killing of his older brother Adonijah because Adonijah requested permission to marry Abishag even though the request was made through his mother Bathsheba. Adonijah proclaimed himself king when his father was old and well advanced in years. Abishag was a young lady who attended to the needs of King David when David was old and well advanced in years (1 Kings Chapters 1 and 2). Solomon did not consider that no matter how foolish the request, it was passed through his mother who thought it was a small request and did not see anything wrong in presenting it to him. Moreover, before presenting the request, the mother had asked him not to refuse and he had assured her that he would not refuse her.
King Solomon also ordered the killing of Joab in the tent of the Lord even though Joab had run there specifically to seek refuge by holding the horns of the altar (1 Kings 2: 28-35). Joab was the commander of the army who had conspired with Adonijah to install Adonijah as king, and had killed Abner the commander of the Israel's army and Amasa, commander of Judah's army. Solomon was acting on his father David's instructions to deal with Joab, but David had said it should be done according to Solomon's wisdom (see 1 Kings 2:6). Apparently, Solomon's wisdom at that time was to kill a man who had sought refuge in the tent of the Lord holding the horns of the altar!
Thank God for His grace and mercy which turned things around for the young King Solomon. Solomon correctly asked God for wisdom in the dream. It was a wise choice. The same grace and mercy would turn things around positively for all of us, too.
That divine turnaround may help us obtain greater wisdom than that possessed by the wisest man in a certain town in the story I heard some years ago. In the story, two friends had a dispute over an important issue and went to see the wisest man in their town for resolution. They took along their mutual friend as a witness. After the wise man heard the first person, he told him that he was right. Then the second person spoke. After he finished, the wise man told him he, too, was right. The mutual friend who accompanied them was confused. He asked the wise man that the two friends presented completely different positions and so how could both be right? The wise man looked at the mutual friend and said that he, too, was right. Lessons learned: you are probably as "wise" as the "wisest" person in town and, more importantly, worldly wisdom has its limitations so we should seek and apply wisdom that comes from God.
Fortunately, the Bible assures us that if any of us lacks wisdom we should ask God who gives generously and He will give us, but we should not doubt (James 1:5-8). The wisdom God gives comes from above. It is pure, peace-loving, considerate, submissive, full of mercy and good fruit, impartial and sincere, and shown by good life and deeds done in humility; whereas earthly, unspiritual wisdom comes from the devil and shows itself in bitter envy and selfish ambition (James 3:13-17 NIV).
Wisdom plays key roles in this world and in our lives than we normally think. When many of us think about the Creation of the heavens and the earth, for example, we think about the awesome power and creativity of the Almighty God. We do not usually associate wisdom with Creation. Solomon, however, saw wisdom as that which God used to lay the earth's foundations; understanding as that which He used to set the heavens in place; and knowledge as that which He used to divide the deeps and the clouds let drop the dew (see Proverbs 3:19-20).
Thus, wisdom, understanding, knowledge, discernment, and insight are more important than we think. They existed before many of the things we now hold dear in our lives came into existence. Many of us may not find ours in a dream like King Solomon did. However, we need to take the first steps by fearing and honoring God because "the fear of the Lord is the beginning of wisdom, and knowledge of the Holy One is understanding" (Proverbs 9:10 NIV).
Wisdom is a cornerstone of this earth and those of us who dwell on it. We neglect it at our own peril. We pursue it to our own transformational advantage following the example of our Lord Jesus Christ who "grew in wisdom and stature, and in favor with God and men" (Luke 2:52 NIV). The need for wise and discerning hearts has never been greater than this time when countries all over the world are overwhelmed by seemingly insurmountable problems that require wise counsel and wise leadership. If by God's grace and mercy we have a dream in which God tells us to ask for whatever we want, let's choose wisdom. The rest may follow.
Prayer is the key. May God grant us the grace to seek Him daily through our prayers.
Dr. Daniel Gyebi, Attorney-at-Law, Texas, U.S.A., and Founder, PrayerHouse Ministry, Kumasi, Ghana.
PrayerHouse Ministry is dedicated to providing a quiet facility for Christians to pray individually by themselves without any intermediary priest, pastor or any other person. This is a free service. No money is demanded or accepted. One facility is located at Kyerekrom / Fumesua, near Building and Road Research Institute Offices, one mile off the Kumasi-Accra Road and next to a house called Grace Castle. If you are interested, please contact Agnes at 054-7498653. Another is located at Kantinkyiren, at the junction of Kantinkyiren and Konkori, off the Kumasi-Obuasi Road, branching left at Trede junction. Contact Kwadwo at 020-8768461 / 0246-989413.