Let's Rethink The Annual BECE & WASSCE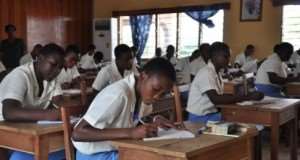 True education is ultimately geared towards the development of the whole being of a student; hence, it is disheartening to think that the Ghana Education Service (GES) has reduced its mode of assessing a student's suitability for higher education to a few hours of a sit-in examination administered under strict examination conditions. To my thinking, we, as a country, are being misdirected, although the country has enough professionals who arguably possess enviable knowledge and expertise in education.
This is not only unfair to students who fail the examination due to unforeseen problems like sicknesses, bad weather conditions in the final examination period, etc.; it's unreliable, considering that it rubbishes some enviable successes a student chalked in the past during his several years of schooling, and it reduces a student's suitability for higher education to a few weeks of examination conducted by examination boards we consider superior. Surprisingly, after a student has failed the examination conducted by WAEC, we are deceived into believing that they are unqualified for higher education. Whilst the courageous candidates are able to re-sit the examinations (sometimes, several times) until they earn good passes, the failure serves as the termination point of the education of many candidates. As for examinophobic candidates, they hardly give any examination they have failed a second attempt.
Arguably, these one-time sit-in examinations have terminated countless students' education prematurely, due to the stigma associated to failure in our part of the world. Our students must pass a 'final' examination before they can progress or remain in academia. This is what we have reduced our education to! What at all happens to the past successes of our students? Their excellent projects go waste, and enviable scores they made in topics they are good at are swept under the carpet. Until they have passed a 'final' exam that often covers only a percentage of what they were taught in school, higher academic doors remain closed to them. How unfair!
Why are we programmed to think that final examinations are the only means of assessing students' progress or aptitude for future success in higher education? It is this thinking that has compelled us to drive our final year students back into the classroom in this extraordinary time of a pandemic. Does this not betray us? Where are the records we kept for each student? What is the nature GES's supervision of schools? Can't it go beyond checking teachers' lesson notes, teacher absenteeism and lateness etc. to regular proper records keeping for each student to ensure that the progress of our students is assessed and evaluated right from the basic level up to the terminal level?
How amazing it is to know that final year students of international schools (e.g. Ghana International School, Shield International School, Delhi Public School, Galaxy International School, Community International School etc.) that run British National curriculum will be awarded 'predicted grades' this year. Yes, final year students in such schools don't need to be subjected to an examination conducted in the face of a ravaging coronavirus that has gnawed thousands of lives already and has defied orders of medical experts, religious leaders and voodoos to go to rest. Guess what! It is with those same predicted grades that they will compete with students of our local schools that will write this year's SSCE.
Once the certificates for students in such international schools will be based on past records and achievements of each student, they can't be unreliable. International General Certificate Secondary Examination (IGCSE) certificates have always had currency, and a pandemic can't make it lose its global glory. Their certificates will continue to have its international appeal, whilst our SSCE certificates will keep struggling for global recognition. Are those international schools not our dream schools for our children, but whose school fees freeze the senses of a regular salary worker employed by the government?
Yet, we choose to risk the lives of our dear students and teachers! What happens, if a student contracts the virus and is unable to write the ultimate BECE or WASSCE? Nothing! How unfair!
There is only a single reason that accounts for the laudable decision to use predictable grades by Cambridge International Examination (CIE) boards – it's simply because they understand; they understand the havoc the virus has wreaked and how it stands in readiness to wreak more havoc; they understand that the psychological, emotional and physical preparedness of final year students has been compromised by the virus; they understand that a student's progress in higher education is not dependent on their ability to pass a final examination conducted in the confines of a hall and under the supervision of security officers, as well as examination officers and invigilators; they understand that instructing students to wear face masks and observe other safety protocols while taking an examination can have dire consequences on the student and render the results unreliable; they understand that these are extraordinary times which necessitate the doing of things differently.
Must we always shudder when we hear 'change'? Well, change is the only constant entity in our world, so we need to embrace it. The GES, in its bid to perform a cosmetic surgery on the disfigured face of our education, should be ready for change at all times. Just as it is striving hard to implement a curriculum that goes beyond classroom instruction, it should explore ways of broadening its assessment parameters. Otherwise, we shall lose both the face value and quality of our education entirely.
Darius Adjong