National Democratic Congress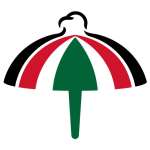 The National Democratic Congress is a social democratic political party in Ghana, founded by former President Jerry Rawlings, who first came to power in a coup d'état in 1979, remaining President for 19 years(31/12/1981-7/01/2001). The NDC was formed ahead of elections in 1992 and 1996 which returned Rawlings to power. Rawlings' second term ended in 2001. His Vice-President, John Atta-Mills, came second in the 2000 and 2004 presidential elections, winning 44.6% of the vote on the second occasion. In the general elections held on 7 December 2004, the party won 94 out of 230 seats.
On December 21, 2006, Atta-Mills was overwhelmingly elected by the NDC as its candidate for the 2008 presidential election with a majority of 81.4%, or 1,362 votes. Ekwow Spio-Garbah was second with 8.7% (146 votes), Alhaji Mahama Iddrisu was third with 8.2% (137 votes), and Eddie Annan was fourth with 1.7% (28 votes). In April 2008, John Mahama was chosen as the party's vice-presidential candidate.
The NDC's party symbol is an umbrella with a parrot's head on top. Party colors are red, white, green, and black. The NDC is a consultative member of the Socialist International.