Tourism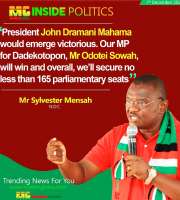 Relevant Links
Media Links
Ghana Entry Points
Ghana is a peaceful country located on the west coast of Africa. It is bounded on the north by Burkina Faso, on the east by Togo, on the west by Cote d¹Ivoire and on the south by the Atlantic Ocean.
Formerly a British colony known as the Gold Coast, Ghana was the first nation in sub-Saharan Africa to achieve independence in 1957. With total land area of 92.100 square miles (238,537 square kilometers), Ghana is a blessed land endowed with natural mineral resources such as gold, diamond, timber, cocoa etc. Its population is approximately
18.8 million.
A visitor coming to Ghana can use the following major entry points.
Air: The Kotoka International Airport is the principal air entry point to Ghana. It is a modern airport that places its technological facilities at the disposal of other countries in the West Africa sub-region. This explains why Ghana is referred to as the ³Gateway to Africa².
Sea: Ghana boasts of two major ports, the Tema Port in the Greater Accra Region, some nine (9) kilometers south of the capital city, Accra and the Takoradi Port located in the Western Region of the country.
Land: There are three major entry points by land. On the West is the Elubo entry point between Ghana and Cote d¹Ivoire, On the East is the Aflao entry point between Ghana and Togo and on the North is the Paga entry Point between Ghana and Burkina Faso. All these entry points are manned by qualified Immigration officers to ensure the security of visitors arriving or leaving the shores of Ghana.
It is imperative, however, for all visitors entering Ghana to possess valid passports or other legal travel documents.
---
Embassies in Ghana
Link to embassies
---
The Ghana Immigration Service
The Ghana Immigration Service (GIS) supports the Government's declared policy of the 'Golden Age of Business'
through the facilitation and investment by providing an efficient and effective work permit system that meets economic and skills requirements for the country. As a constituent agency in the investment promotion effort. GIS works in close collaboration and consultation with the GIPC to ensure timely processing of permits to foreign investors.
GIS mission statement seeks to build a stronger Ghana by operating a fair but firm Immigration system that regulates the movement of people through Ghana's boarders as well as their residence and establishment in Ghana to meet social-economic and development needs of the country.
As one of the key frontline agencies supported by the Gateway Project, GIS is currently under going an organizational restructuring with the objective of simplifying and speeding up procedures and processes and improving service delivery to the public through the use of efficient systems and technology. GIS operates within a changing world, and its poised to change with it to deliver quality by taking advantage of the opportunities afforded by technology to modernize the way we work.
Visa On Arrival
GIS has introduced this visa policy to cater for visitors/businessmen who travel at short notice from countries where Ghana has no mission or consulate. The policy authorizes visas to be granted on arrival at the Airport or other borders and it is highly patronized by the foreign business community.
Indefinite ResidenceThe new Immigration Law, Act 573, 2000 makes provision for long term Residence and Indefinite Stay for foreigners in Ghana in recognition of their contribution to the economy of Ghana.
---
Ghana Visa Regulations - Entry Requirements
1. Travel Documents
All persons entering Ghana must be in possession of a valid passport or Travel Documents establishing the identity of the holder.
Travel Documents include Laisser-Passer and other travel documents issued by International Agencies recognised by the Government of Ghana.
These are:
1. ECOWAS
2. United Nations and its specialized agencies
3. The World Bank
4. African Development Bank, etc.
Where there is doubt, it should be cleared with the Ghana Immigration Service headquarters or the Ministry of Foreign Affairs, Accra.
2. Entry Visas
1. All foreigners entering Ghana, unless covered by para
3(1) require Entry Visas. Entry Visas must be obtained prior to arrival in Ghana and may be obtained from a Ghana Embassy, High Commission or Consulate abroad.
Where Ghana has no Consular or Diplomatic representation, an application for Entry Visa may be made to the nearest British Diplomatic Mission or Consulate authorised by the Government of Ghana to act on its behalf
2. ii. Ghana Entry Visa may be issued on arrival if the Director of Immigration has prior notification from travellers or their sponsors.
Applications must be made to:
Director Of Immigration
Ghana Immigration Service
Private Mail Bag
Ministries Post Office-Accra
Tel: 00233-21-221667 / 225321 / 224445
Fax 00233-21-226996
3. Exemptions
The following categories are exempted from obtaining entry visas to Ghana
a. Citizens Of Ecowas Countries
Nigeria
Benin
Mauritania
Niger
Gambia
Senegal
Guinea
Sierra Leone
Guinea Bissau
Togo
Cote D'ivoire
Burkina Faso
Liberia
Cape Verde
Mali
b. Nationals of Kenya, Malaysia And Singapore Holders Of German And Cuban Diplomatic/Service Passports c. Persons in direct airside transit.
4. Referals (for British Diplomatic Missions and Consulates) I. Entry Visas may be issued in accordance with the Visa Regime to the following categories of personswithout reference to Accra.
1. Members of Diplomatic and Foreign Consular officers "de carriere" travelling to or through Ghana on official business
2. Persons in transit in Ghana who wish to break their journey in Ghana for period notexceeding 48 hours provided they are in possession of visas and onward tickets to their destination beyond Ghana and are not stateless persons
ii. Where Visas areissued without reference, details and two photographs of the persons to whom they have been issued must be forwarded to the Director of Imrnigration,
iii. All applications for Visas except in category 4 (I) above must be cleared with the Director of Imrnigratidn.
Referred applications should be accompanied by two recent photographs of applicant and should beforwarded by mail with statement of action taken.
Reply to referred cases will be sent by fax where applicable.
Whenever application for visas are referred, a report of local security clearance and any other relevant information must be accompanied.
iv. Visas may be obtained at the pointy of entry in Ghana by investors or tour operators. Prior approval for visa ' on ' arrival may be obtained from the Director of Immigration through fax or e-mail.
5. Refusal
Visa to the following category of persons should generally be refused.
1. Prohibited Immigrants
2. A person without visible means of support
3. An undesirable person
4. And mentally handicapped person
5. On the advice of the health authorities
6 Immigration notice
Intending travellers must note that the possession of the appropriate documents does not confer a right of entry.
Travellers may be refused entry into Ghana if they fall within the category of prohibited Immigrant and if they do not satisfy Immigration requirements at the point of entry.
The Government of Ghana will not be financially liable for their repatriation.
7 Immigration Regulations
Immigrant Quota:
Persons who enter Ghana ostensibly as visitors may not be permitted to take employment.
No person shall be permitted to accept employment or undertake an occupation for reward in Ghana unless such employment is within and authorised Immigrant quota (an Immigrant quota being the number of non-Ghanaians that a person or firm can employ). An application for
Immigrant Quota must be made to: The Secretary Immigrant Quota Committee Ministry Of The Interior P.O. Box M. 42 Accra
An approval for Immigrant Quota for a foreign employee must be obtained before he proceeds to Ghana.
8. Investors
Investors to Ghana must register with the Ghana Investment Promotion Centre.
Application for the extension of visa or automatic quota must be accompanied by a supporting letter from the GIPC confirming the status of the Investor.
9 Mining
Investors into the Mining Sector in Ghana must register with the Minerals Commission as approved Mining Services Company.
Application for the extension of visa or Immigrant Quota must be accompanied by a supporting letter from the Minerals Commission confirming their status.
10. Professionals
It is an offence for foreign doctors, dentists, lawyers, pharmacists and other professionals to practice their profession in Ghana unless they have registered their profession in accordance with the profession of the respective ordinances.
All professionals wishing to enter Ghana to practise one of the professions are required before visas are issued to provide particulars of their qualifications in order that their eligibility for registration may be determined.
11 Prohibited Immigrants
Any person falling within the following categories.
1. There is a deportation order in force - Part II ACT
160/63
2. A destitute or person with no visible means of support
3. A person of unsound mind
4. A person declared by the Minister, or by Executive Instrument to be a person whose entry into Ghana would not be conducive to public good.
5. A person against whom there is an extradition crime in force within the meaning of the Extradition Act, Act 22/60.
12. Fees
Some amount of money is charged for Entry Visas
Visa Applicants based in the UK can use the following link to apply for a Ghanaian Visa.
www.ghana-com.co.uk/visaform.pdf