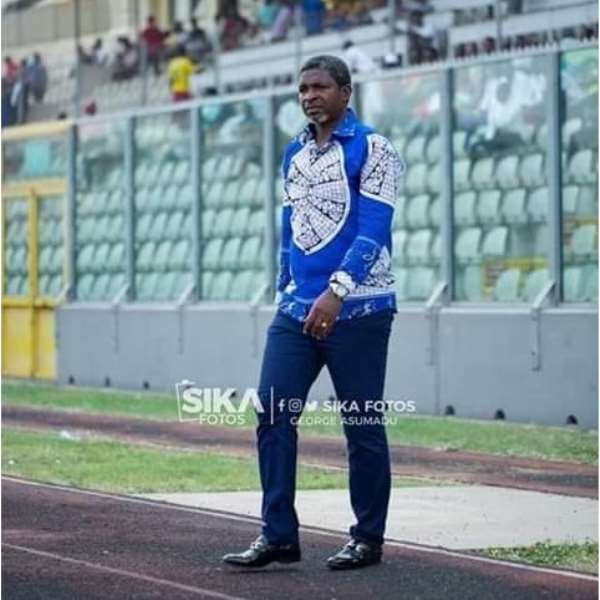 Maxwell Konadu
Maxwell Konadu, coach of Kumasi Asante Kotoko has over the years proved that he is a man of his own and does things that show his creativity and style.
The former international football star who was known for his exploits in goal scoring for the Black Meteors and the Black Stars decided to impact his knowledge, and he is doing it in remarkable fashion.
Not does he teach his players how to play, but he shows them how to dress for occasions.
Looking at the way he dresses, one can see that he has a good taste and feels pretty good in African or Ghanaian prints.
When he led Kumasi Asante Kotoko to beat Accra Hearts of Oak on Sunday, January 26, 2020, it was clear that his confidence was high and he has psyched his players never to lose hope or be overconfident.
It was the fourth time he had beaten the Phobians and indeed it was a good game that laced the expected victory.
Even when Hearts equalized he knew his boys will bounce back that is why he introduced creative players who can move, dribble and push the ball forward to earn a goal and the trick worked.
Currently, no football tactician comes close to this man in the Ghana Premier League.
When you speak to Footballers who have tasted his class, they admit that when it comes to tactics Maxwell Konadu has no size.
He has been to four major international championship finals (1 CHAN final and three WAFU finals).
-He is the first man to win two back-to-back WAFU Cup of Nations finals.
-He is the first man to reach three successive WAFU Cup of Nations finals (2013, 2017 and 2019)
- He also won Ghana Premier League with Asante Kotoko.
- He is seen as a reviver, reformer, restorer and also a game-changer who can contribute to the rebranding of Ghana football.
Maxwell Konadu, born on 4 December 1972 has been a caretaker coach of the Ghana national football team, manager of the Ghana national under-23 football team, and two times Premier League giant Asante Kotoko coach.
Konadu was a member of the Men's National Team that won the bronze medal at the 1992 Summer Olympics in Barcelona, Spain. He also chalked a remarkable feat winning gold as assistant coach of Ghana's Men's Olympic Team at the All-Africa Games in Maputo, Mozambique in 2011.
Konadu began his youth career with Nkoranza Republic and Upper West Republic in Ghana.
He began his professional career with the legendary Kumasi Asante Kotoko FC, with whom he won the Ghana Premier League in his debut season.
After brief spells playing in Tunisia with CS Sfaxien and SG Egelsbach in Germany, he returned to Asante Kotoko in January 1996, before moving to U.D. Leiria in Portugal, then to S.C. Beira-Mar and A.C. Marinhense.
He then had a brief spell playing in Turkey, before returning to play for Ghanaian side King Faisal Babies in 2003.
Following his playing career, Konadu became a coach. first interning at Ghana's Feyenoord Academy before taking on the assistant coach position of Red Bull Academy's U-17 team in Sogakope.
After participating in the 31st and 32nd International DFB (German Football Association) coaching courses in Hennef, Germany, he received the International DFB Coaching Certificates "B" and "A" in 2008 and 2009 respectively.
By then, he had moved to Ghana Premier League club Wa All Stars F.C., leading them during the 2009–10 and 2010–11 seasons.
In July 2011, Konadu was appointed as assistant coach of Asante Kotoko, the club where he first gained fame as a prolific goal scorer. He, however, signed on as head coach following his return from the All-Africa Games in Maputo, Mozambique, following the sacking of Serbian coach Bogdan Korak.
On 3 May 2012, Konadu was appointed as the assistant coach of the Ghana national football team by the GFA succeeding James Kwesi Appiah.
On 5 June 2012, Konadu resigned as manager of Asante Kotoko after guiding the club to their 22nd league title and securing qualification to the 2013 CAF Champions League.
On 10 July 2012, Konadu was appointed as the manager of the Ghana national under-20 football team, and in January 2013, he was appointed as the manager of the Ghana national under-23 football team.
He was appointed caretaker manager of the men's senior national team, for the second time, in March 2017.
Last year (2019), he led the Black Star team B to defend the CHAN trophy but at the final lost to host nation, Senegal with virtually unknown stars and for the second time he has return to Asante Kotoko where he really feels comfortably at home to offer his all.
Konadu is a winner and would love to win all competitions. He should keep his head up always and keep on doing what makes the fans happy.