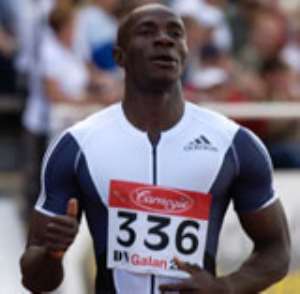 The Ministry of Education and Sports has authorised the release of $15,000 to three top athletes in what is seen as a timely move to prevent a possible switch in nationality.
The amount will be disbursed equally among long jumper Ignatius Gaisah, hepthalete Margaret Simpson and sprinter Aziz Zakari for cost they incurred when they prepared for the World Athletics Championships in Helsinki, Finland, last August.
Aside that, Gaisah, Simpson and Zakari have been paid $2000, $1,500 and $500 in bonuses respectively on the strength of their performances at the World Championship. Gaisah won silver, Simpson won bronze, while Zakari made it to the final in the 100m.
The move could be a timely intervention in Gaisah's indifferent approach to Ghana's assault on the next Commonwealth Games in Melbourne, Australia, in March.
"I am not even thinking about the Games," Gaisah had told the Graphic Sports in an interview after joining colleague Olympians to celebrate the inauguration of the National Olympians Association in Accra last December.
Gaisah, as silver medallist at the Helsinki Meet, remains a medal hope in Melbourne and a target of the big-paying countries for a possible switch in nationality.
"It is true I have received offers, but my decision will depend on how the authorities respond to my claims in preparation for the World Championships," he said.
He said he spent about 7,000 euros on airfares and accommodation, allowances to coach and physiotherapist, among others.
But Dr Owusu-Ansah, Director of Sports Development at the Ministry of Education and Sports, contended that although the Ministry was not oblidged to pay for the claims, it was a necessary motivation for their future competitions.
And after the move to reimburse him with $5000, Gaisah might refrain from carrying out his threat to defect, as Ghana nurtures hopes to improve on her single bronze medal won at the last Commonwealth Games in Manchester, England.
Dr Owusu-Ansah told the Graphic Sports last Tuesday that Gaisah would be reimbursed with the sum before he departs Accra this weekend for his base in the Netherlands.