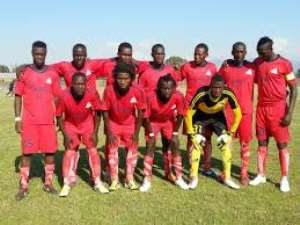 Cape Coast Venomous Vipers played a fantastic game to qualify for the 2017\2018 Division One league.
Vipers defeated Agona Swedru Professionals Football club 3-0 in the final match of the Central regional Division two tournament played at Agona Swedru.
Sixteen Division two teams participated in the tournament organized by the Central Regional Football Association.
Vipers outplayed Swedru Professional throughout the match and scored through Joseph Arthur and George Aidoo in the 20th and 40 minutes respectively in the first half.
On resumption, Vipers, who were determined to carry the day, continued the pressure on Swedru Professionals and managed to score the third goal through Nana Ackon.
Nana Ackon dribbled past two defenders before placing the ball on the blind side of the goalkeeper in the 70th minute.
Swedru Professionals made frantic efforts to reduce the tally but they could not find the net until the referee brought proceedings to an end.