Christian Atsu : Jose Mourinho is mentally strong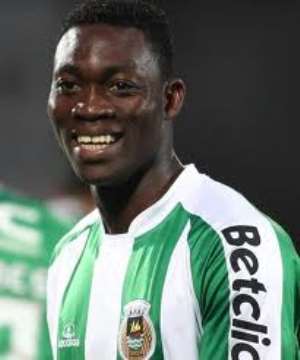 Christian Atsu
Chelsea-owned Christian Atsu has praised former Blues' manager Jose Mourinho.
Atsu joined Chelsea from Portuguese giants Porto on a five-year deal in 2013 at a time when the reigning Premier League champions were led by the former Real Madrid boss.
However, following The Blues' disappointing start to the 2015-16 season, Mourinho was given the sack, and Atsu is all but set to follow the Portuguese out of Stamford Bridge after struggling to settle in England.
'Mourinho is a very good man and when I met him, he was always joking with me,' Atsu told the BBC.
'I wasn't playing but anytime he sees me, he says 'Christian, you have to play'. I quite remember meeting him when I was at Bournemouth, got injured and had to come back. He said I was a spy.
'He's a great man. He's fantastic and I like him as coach. He's mentally strong and wants to win.'
Atsu is on the verge of completing a transfer to La Liga with Levante and Malaga all said to be high up on his heels.
The playmaker endured an injury-blighted loan spell at Bournemouth, making only two League Cup appearances for the Cherries before a Chelsea recall last December.
In a similar unsuccessful loan spell in 2014-15, the 24-year-old made only five Premier League appearances during a season-long stint with Everton.