Real Madrid : Essien in the group against Manchester United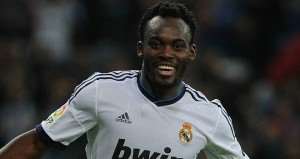 The Ghanaian player Michael Essien who scored minds against FC Barcelona in dealing with the right flank, was in the group of Jose Mourinho for the match against Manchester United on behalf of the 8th finals of the European Champions League.
The Portuguese coach has 24 players selected for this explanation scheduled for Tuesday.
the two teams had a draw (1-1). The victories of merengue in the clasico against Barcelona can boost the morale of the men of José Mourinho.
Madrid group:
Casillas, Adan, Diego Lopez, Jesus - Sergio Ramos, Arbeloa, Marcelo, Albiol, Varane, Pepe, Coentrao, Ricardo Carvalho - Modric, Xabi Alonso, Khedira, Özil, Kaka, Callejon, Di Maria, Essien - Cristiano Ronaldo, Benzema, Higuain, Morata.