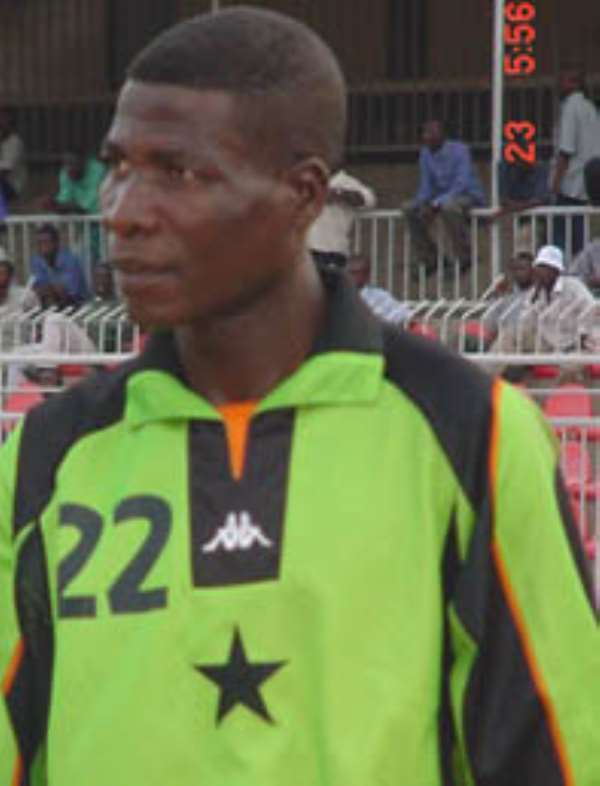 Long time Leventis United safe hands Edward Ansah (pictured) is back in Nigeria as part of the Black Stars out to prevent the Super Eagles from winning the LG Cup which kicks off tomorrow in Abuja.
Ansah, undoubtedly one of the best goalkeepers to ever feature on the domestic scene, is part of the 27-man Ghanaian delegation which arrived the country yesterday for the Four-Nation Tournament being sponsored by the giant South Korean electronics company. Also billed to arrive yesterday were the defending champions Iran.
Also part of the Ghanaian squad of 17 players and 10 officials is the German Burkard Ziese, who is making a return to the Black Stars after guiding them to the final of the 1992 Nations Cup final in Senegal.
Many Nigerian soccer fans will remember the German for telling then Eagles sweatmerchant Clemens Westerhof that he boasts too much ahead of their 1991 Nations Cup qualifier in the northern Ghanaian city of Kumsai which the Black Stars won 1-0.
Incidentally during his time in charge of the Black Stars, Westerhof was never able to beat his team. For after losing in Kumasi, they pulled off a goalless draw in the return leg in Lagos and went on to beat them in the quarter final stage of Senegal'92 2-1, with Abedi Pele scoring a fantastic headed goal.
Apart from Ansah, who moved to Iwuanyanwu after the demise of Leventis, the Black Stars are also coming with three Europe-based players, namely England-based Elvis Hammond (Fulham), Patrick Agyemang (Wimbledon) and Derek Boateng, who plies his trade with top Greek side Panathinaikos.
Although the others are home-based players, the team is in the country with a mission - to avenge last year's 1-0 lose to the Eagles in a friendly. Both teams were unable to agree on a date for the return leg and so tomorrow's opening match of the LG Cup will serve this purpose.
The Black Stars along with the Iranians are quartered at the Federal Palace Hotel and will be joined by the Indomitable Lions of Cameroon, who are billed to arrive today. All three teams are to be flown to Abuja by IRS Airlines. The teams will hold one hour work outs at the National Stadium, Abuja later this evening ahead of tomorrow's games.
Meanwhile, touranment oraganisers, LG Electronics are scheduled to hold a press conference at 11.am this moring to further brief the media on their plans for the first ever competition to be staged in the country.