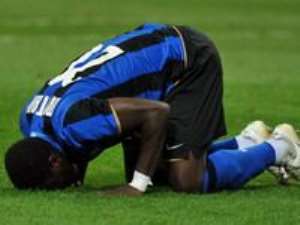 Inter are preparing for their highly anticipated return-leg against Manchester United in the Champions League, but suffered a slight and avoidable setback when Sulley Ali Muntari forgot his passport, according to ANSA.
The 24-year-old did not realise he had forgotten the documentation and was not able to join the rest of the squad on their flight to England.
However, thankfully for coach Jose Mourinho and the Nerazzurri, the midfielder retrieved his passport and was able to take a later flight, joining his team-mates late Monday evening.
The former Udinese and Portsmouth player is expected to be in the starting XI on Wednesday at Old Trafford. The Red Devils earned a 0-0 tie at the San Siro a fortnight ago, meaning the result is still very much in the balance.
Muntari has made 26 appearances in all competitions for Inter this season, finding the back of the net twice.