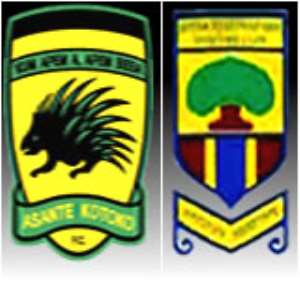 The Ashanti Regional Police Command and the management of Kumasi Asante Kotoko management are at each other's throat, accusing each other over ticket racketeering during last Sunday's ninth week GLO premiership match between the club and Accra Hearts of Oak.
Overcrowding at the stadium led to overheating and suffocation which resulted in the death of six soccer fans and hospitalisation of 22 others. The Police are insisting that they informed the Kotoko management at a point in time last Sunday that the stadium was full and that it wanted ticket sales to stop but that request was not heeded to.
A police source told the Times here that "the police even arrested a man, B.K. Amoako, who for selling tickets whose source they did not know.
When he was sent to the Chief Executive Officer (CEO) of the club, Sylvester Asare, however, he told the police to set him free because he had been mandated by Kotoko management to sell; hence they ensured that the stadium overflowed with people.
It said, if indeed, police extorted money from fans to allow them to scale the walls to the stadium Kotoko management would have reported to any of the senior police officers at the stadium, stressing "nothing happened that is why they could not report".
However, when Mr. Asare was contacted he denied the allegations.
He said all the nefarious activities by the police were captured by closed circuit television.
He suspected that the police went to the stadium with the sole aim of making profit by extorting money from the fans.
He said they anticipated that there could be a stampede, looking at the mass of people that gathered behind the stadium.
Mr Asare said Kotoko told the police to monitor the fans from outside but because they knew what they were up to, they declined.
The Chief Executive officer indicated that Kotoko was prepared to ensure justice in the matter.