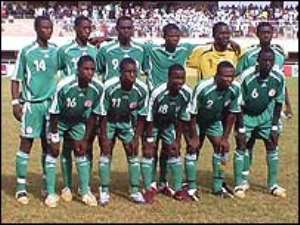 African champions Nigeria have been drawn in the same group as France for the 2007 Under-17 World Cup, which kicks off in South Korea on 18 August.
Nigeria, who won their African title in Togo earlier this year, will open their Group D campaign against the 2001 winners France on 19 August before games against Japan and Haiti.
Coach Yomi Tella is unphased by the draw:"We are not afraid of any team. There is no country at the world cup without a chance and that includes us."
Nigeria won the event in 1985 and 1993 but failed to qualify for the last edition in Peru two years ago, their best finish in recent times was as runners-up in 2001 in Trinidad and Tobago.
"Six years is indeed a long time and there's been so much improvement from our team between then and now," Tella told BBC Sport.
"We've also won the world cup twice but in South Korea past achievements counts for nothing.
"We are confident that by God's grace we will bring the trophy back home to the people of Nigeria."
Africa's other two-time winners, Ghana, will open their Group F campaign against Trinidad and Tobago on 20 August before games against Germany and finally Columbia.
Togo, who were runners-up at the African Under-17 Championship this year, have been drawn in Group A alongside host South Korea, Peru and Costa Rica.
The continents other representatives, Tunisia, are in Group E with Belgium, Tajikistan and the USA.
Groups for Under-17 World Cup:
Group A
South Korea
Peru
Costa Rica
Togo
Group B
North Korea
England
Brazil
New Zealand
Group C
Honduras
Spain
Argentina
Syria
Group D
Nigeria
France
Japan
Haiti
Group E
Belgium
Tunisia
Tajikistan
United States
Group F
Colombia
Germany
Trinidad and Tobago
Ghana