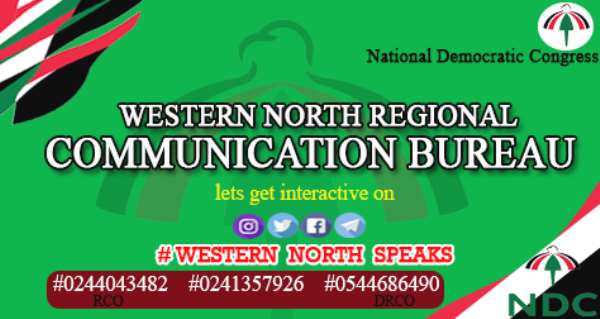 As part of government's effort in dealing with the COVID-19 pandemic which has become albatross on the necks of world economies, the disinfection of our major markets and towns has become necessary.
I must say that disinfection is very different from fumigation. However, the exercise carried out in the Western North region was a fumigation exercise. Even with that, it was poorly executed.
As already stated and advertised by the Western North Regional Coordinating Council, there was going to be a disinfection exercise on Monday 6, April 2020 in aid of combating the Convid-19 pandemic which Ghana hasn't been spared. In the said advertisement, traders and shop operators were admonished not to undertake trading activities on that day in order for the smooth implementation of the exercise.
With excitement in our hearts, traders fully complied with this directive and forewent their daily activities by not opening shops. Even though all traders were adversely affected, it was for the good of it.
The whole exercise was to kick start from 7:00am, it started somewhere 9:30-10:00am. The delay wasn't a mere coincidence but was due to a misunderstanding that was created by the RCC which started on Sunday.
The exercise was to be carried out by Zoomlion Ghana Limited with well-trained staff to execute this imperative exercise but was met with stiffer resistance and opposition by the Regional Minister and his team. Their flimsy and untenable argument was that our local people here can equally do the job.
This made the team of experts go back with both their human capital and logistics including the right chemicals for the spraying.
Inasmuch as we believe in that as a party, we equally believe in the division of labour. The said local people he argued over had no training at all.
As a political party, we were overly worried over the shoddy work undertaken yesterday by the RCC across the region. The following observations were made.
*Observations*
1. The local people engaged had no training at all.
2. That the logistics needed for the exercise wasn't available since the original team designated for the exercise went back with their logistics including the right chemicals.
3. That the unapproved chemicals were even not enough to cover for the whole places designated for the spraying to be undertaken.
4. That greed and selfishness triggered the resistance of Zoomlion Ghana Limited to undertake the exercise only for the selfish gains of the few.
Summing all these observations, one can visibly see that the exercise wasn't properly done. Chemical used for killing flies certainly cannot be used to prevent the virus. This shoddy exercise must indeed be answered for.
We indeed deserve better as a region and that is what the NDC will insist. We are, however, calling on the Regional Minister to come out with more explanations as to why things went that way.
Long live Ghana!
Long live Western North Region!
SAM JEROME
REGIONAL COMMUNICATION OFFICER - WESTERN NORTH REGION