Re: My Community! My Health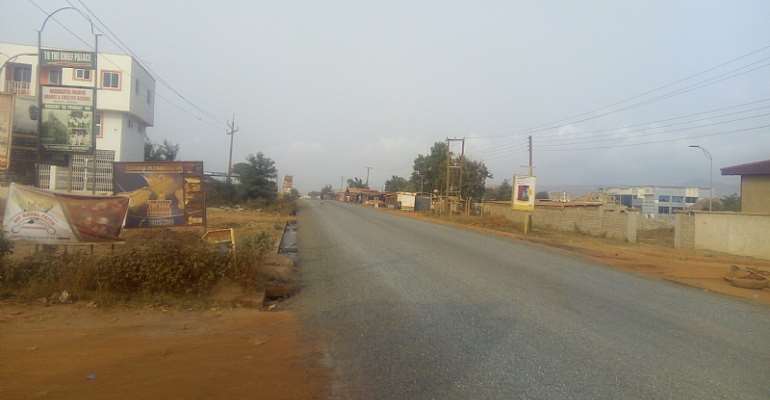 On the 6th of January 2020, I took it upon myself as another opportunity to serve my glorious country by adding my voice to the numerous calls from community folks within the Pantang Hospital and its environs. Yes! I refer to my country as a "Glorious Country", I will on everyday uphold the good name of my country for which my forebearers toiled for through hard and turbulence struggles. Driven by passion for my country, I poured down my frustration by scripting the article I published which is titled "My community! My Health". This article was in every respect a depiction of the state of Pantang Hospital road and its environs. In this very short response, I explore another dimension which is the current state of events as they happen by communities.
It is indeed a mixture of joy casting my mind back to the previous state of the road network linking the Pantang Hospital and its surrounding communities, fast-forwarding to the current state the road network which have seen a facelift of approximately 3.5km of the 5.36km (As mention in the previous article) road stretch from the Pantang junction through the hospital road down to Abokobi. The first coating of the 3.5km stretch of road which ended three weeks ago, the 3.5km stretch forms just the Pantang community. For some reasons, the road construction had halted and the community duelers do not one reason elaborate on the next phase of action.
There are little indications that the constructed 3.5km road may see a second coating, it is however sad to point out that a road constructed three weeks ago had developed little patches of pothole along the stretch. Just across the South-East of the Patang training college, to the right a basic school and the entrance is just along the road. If the will be a second coating? Adding my elevated frustration under control, my plea and request is to equip and push the contractor to do the needful by applying second coating and install ramps on various sections of the road. And if there isn't going to be a second coating? The community duelers want ramps on the road. Very recently with the road facelift coupled with no speed ramps, the rate of vehicular speed is really abnormal and indeed a life-threatening case. The very first accident recorded on the 3.5km constructed road saw the instant death of a dog, I think and feel we don't have to wait for one repulse to record the death of a human life or any other life form before taking actions. Life lost cannot be regained in this lifetime.
Author: Patrick Wunake, [email protected] +233 272068039