Recent Reportage About Stacy Amoateng's Claim Of IUD Causing Cervical Cancer And The Response From The Society Of Obstetricians And Gynaecologists Of Ghana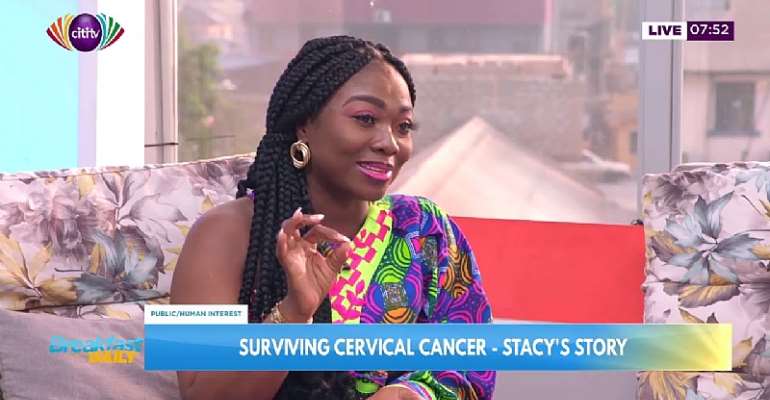 On the 21st of January, 2020, this caption "How IUD gave me cervical cancer Okyeame Kuophi's wife Stacey Tells Sad Story" appeared on peacefmonline. When I saw the caption, I was taken aback myself, took a snapshot of it, shared it on my Facebook story and received some negative reaction from some friends within the medical fraternity. Indeed my friend who had not called me in more than three years called and tried to explain to me that Stacey did not say as captioned and that IUD cannot cause cervical cancer. She went ahead to explain the causes of cervical cancer to me.
Indeed the Society of Obstetricians and Gynecologist of Ghana (SOGOG) reacted saying that their attention has been drawn to a YouTube video being circulated on social media with the above caption in which Mrs. Stacey Amoateng alleges that she acquired cervical cancer from the use of a copper intrauterine contraceptive device (IUD). They went ahead to say that While our Society empathizes with Mrs. Stacey Amoatengs predicament and appreciates her apparent drive to help prevent cervical cancer through public education and screening services, the Society will like to correct the misinformation being conveyed by the contents of the said video.
The Society of Obstetricians and Gynecologist of Ghana reveal that there is no truth to back her claims. SOGOG hereby informs all persons that at present, there is NO scientific data or evidence to support the assertion that any form of the Intrauterine Device (IUD) causes cervical cancer."
The Society state unequivocally that the Copper IUD, "which is one of two forms of IUD available in the country, is a SAFE and EFFECTIVE form of long-term reversible contraception, and couples who desire to use them or are currently using them can safely do so without any fear or panic".
What is it?
Cervical cancer is cancer that begins in the uterine cervix, at the lower end of the uterus that contacts the upper vagina. In the US Cervical cancer affects almost about 13,000 women each year, of which about 4,100 deaths are recorded. Since 1980, the incidence of cervical cancer has fallen by 45 percentage, and the death rate for cervical cancer has declined by 49 percentage ( www.medicinenet.com ).
In Ghana, according to the Ghana Human Papillomavirus and Related Cancers Fact Sheet 2018, it estimated that Ghana has a population of 8.57 million women aged 15 years and older who are predisposed to developing cervical cancer. Current estimates shows that every year 3,151 women are diagnosed with cervical cancer and 2,119 lose their lives as a result. This makes Cervical Cancer the 2nd most frequent cancer among women in Ghana and the 2nd most frequent among women between 15 and 44 years of age.
Risk Factors
The risk factors for cervical cancer include:
Multiple Sexual Partners. The greater your number of sexual partners and the greater your partner's number of sexual partners, the chance of you acquiring HPV is very high.
Early Sexual Activity. Having sex at an early age increases ones risk of HPV.
Other Sexually Transmitted Infections (STIs). Having other STIs such as gonorrhea, syphilis, chlamydia and HIV/ AIDS, increases your risk of HPV.
A Weakened Immune System. If you have HPV and your immune system is weakened by whatever condition then you are more likely to develop cervical cancer.
Smoking. Smoking is associated with squamous cell cervical cancer.
Exposure to miscarriage prevention drug. If your mother took a drug called diethylstilbestrol (DES) while pregnant in the 1950s, you may have an increased predislotion or risk of a certain type of cervical cancer called clear cell adenocarcinoma ( www.mayoclinic.org ).
What is IUD?
An IUD is a small device that is placed into your uterus to prevent pregnancy. It is long-term, reversible and one of the most effective birth control methods out there. IUD stands for Intrauterine Device (basically: a device which is inserted inside your uterus). It is a tiny piece of flexible plastic shaped like a 'T' and it is sometimes called an IUC- intrauterine contraception.
Effects of IUD
Common IUD side effects include: irregular bleeding for several months, lighter or shorter periods or no periods at all, symptoms of premenstrual syndrome (PMS), which include headaches, nausea, breast tenderness, and skin blemishes.
Apart from these there are other non-common side effects which include: Expulsion, which by accident the device comes out of the uterus. If that happens and the IUD falls out of place, a doctor will have to re-implant it.
Uterine perforation, a situation where the IUD punctures the uterine wall. This can cause severe bleeding and result in infection.
Pelvic Inflammatory Disease (PID), which may occur if the IUD insertion procedure introduces bacteria into the uterus.
The FDA of UK have approved five IUD brands for use. One is a copper IUD called Paragard. The others are hormonal IUDs known as Kyleena, Liletta, Mirena, and Skyla. The side effects of these IUD type are listed below:
Kyleena side effects
Kyleena is a hormonal IUD, which can cause: inflammation of the outer part of the vagina, called vulvovaginitis, pelvic pain, headaches, painful periods, sore breasts.
The manufacturer says, an estimated 22 percent of people who use Kyleena experience ovarian cysts. The cysts typically go away in 23 months, they can be painful and discomforting. It also increase the risk of an ectopic pregnancy, which is a pregnancy that implants outside of the womb, usually in the fallopian tube. Prompt treatment is vital to prevent severe bleeding and preserve fertility.
Liletta side effects
This can also increase ectopic pregnancy. People should call a doctor if they experience severe bleeding or abdominal pain with a Liletta IUD, as these signs could indicate an ectopic pregnancy.
Other potential side effects are irregular bleeding and spotting in the first 36 months, ovarian cysts, which can cause pain and discomfort.
Mirena side effects
Mirena is a hormonal IUD that releases the synthetic hormone progestin to prevent pregnancy. Some of the symptoms that people often experience after placement include: pain, bleeding, and dizziness immediately after insertion, although these symptoms should usually go away within about 30 minutes, missed or irregular periods, bleeding more or less than usual during a period in the first 36 months.
An estimated 12 percent of women who use Mirena develop an ovarian cyst according to the manufacturer.
Skyla side effects
Side effects specific to Skyla may include: missed menstrual periods ovarian cysts, risk of ectopic pregnancy if a woman becomes pregnant while using the IUD. One in every 16 people will stop having menstrual periods after 1 year of using Skyla, while about 14 percent of people will develop an ovarian cyst. This the caution by the manufacturer.
Paragard side effects
Paragards are not hormonal secreting IUD. Instead, their copper coating acts as a deterrent for sperm. Their side effects include: allergic reactions to the metal, a backache, feeling faint, low blood counts, menstrual-like cramping pain during sex ( www.medicalnewstoday.com ).
In a medically reviewed article by Yamini Ranchod, Ph.D., on July 24, 2019, written by Lana Barhum and titled "What is the link between breast cancer and Mirena IUD?", posit that, the most recent label information from the U.S. Food and Drug Administration (FDA) acknowledges a potential breast cancer risk for women who use the Mirena IUD, stating: "Women who currently have or have had breast cancer, or suspect breast cancer, should not use hormonal contraception because some breast cancers are hormone-sensitive." This implies that certain women might increase their risk of breast cancer when using hormonal contraception and advised same by the US FDA.
In a 2014 observational study in Obstetrics & Gynecology which looked at women aged 3049 years from Finland who used the Mirena IUD to control heavy menstrual bleeding. The study report showed that Mirena decreased the risk of endometrial, ovarian, pancreatic, and lung cancers. However, the findings of the study reported a higher incidence of breast cancer than the researchers anticipated.
In Ghana, two main types of IUD are administered. Namely Copper IUD (commonly referred to as the non-hormonal IUD or 'coil') and Hormonal IUD (or IUS). If hormonal IUD's have these side effects, then it stands to reason that, women who have been relying on these contraceptive methods might have been predisposed to these harmful effects.
From the above, in can be deduced that, there might not be a direct link between IUD usage and cervical cancer. But IUD can cause or increases one's risk of getting other cancers especially breast cancer.
Stacey Amoateng has apologised and added that her words were misconstrued. The apology is in good faith but the reaction from the Society of Gynecologists and Obstetricians of Ghana is what I find problematic. To emphatically say that there isn't any scientific proof that IUD's cause cervical cancer can be granted but even that, my difficulty is, unless and until a research disproves same, we cannot conclude same. This is because a lot of things have happened in this world that research would prove or disprove several years later. An example is, when the world as said to be round, the person who revealed this was possibly seen as spewing falsehood was but latter science have proven that indeed, the world is round or spherical.
Commonsensically, anything that obstructs the natural cause of life in a living organism has some negative consequences. Hence IUD's which are devices that secretes hormones or other substances in order to prevent pregnancy would definitely have some side effects to the user. Some are known while others are unknown.
The Society of Gynecologists and Obstetricians of Ghana concluded their statement the society states emphatically that the copper IUD, which is one of two forms of IUD is a safe and effective form of long reversible contraception and couples who desire to use them or are using them can do so without fear or panic". This is misleading for me because IUD's have some serious side effects: Expulsion, Perforation, Infection, Cramps, Fainting, Irregular or Heavy Periods, Ovarian Cysts etc. If these are side effects and the SOGOG are saying it is safe and effective, then, are they positing that the other forms of contraception are more harmful than the IUD's or these side effects don't apply to Ghanaian women?
I don't seek to undermine the importance of contraception but some of these contraceptive methods have consequential effects on users. When matters come up, in as much as we would want to protect our job or profession, once it is about health issues the full facts must be laid bare for all to read, understand and appreciate the issues.
To Stacey and any other woman who has suffered any mishap due to usage of contraception especially IUD, may be you didn't seek proper counselling or better still the type of contraception you decided to use or was administered to you was not compatible to your system.
If any lady decides to use any form of contraception, please seek a professional family planning expert to advise you on the safer method for you. I also hope that the health professionals will avail the full facts of the negative effects on users health before administering same to clients. Stacey might have goofed in relation to cervical cancer and IUD linkage but apart from condom, all other contraceptive methods have some side effects.
D. C. Kwame Kwakye
Broadcast Journalist
GBC, Radio Central
Cape Coast
0244 976 550
Email: [email protected]