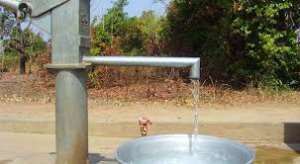 A recent research conducted on wells and boreholes in Dodowa has revealed that they all are contaminated with faecal matter.
The findings attributed this to the siting of more than 70 percent of the hand-dug wells about 10 meters from latrines, waste dumps and unlined wastewater drains.
According to graphic.com.gh, the survey was done through a collaboration between the Department of Civil Engineering and the Regional Water Environmental Sanitation Centre of the Kwame Nkrumah University of Science and Technology (KNUST) and the Central University, with support from a number of international WASH organisations.
The findings
The Head of the Civil Engineering Department of the Kwame Nkrumah University, Prof. Sampson Oduro-Kwarteng, said water samples from 57 wells in Dodowa were tested to assess the pollution risk from them.
After the test, it was revealed that 27 percent of the samples tested positive for rotavirus, while 55 percent had adenovirus. Other pathogens and pollutants were also seen in the samples.
According to the Professor, the findings and recommendations gathered from the research would help reduce water pollution and improve the quality of water from boreholes and wells in Ghana.
Residents are safe
Meanwhile, speaking to Citi News, Prof. Oduro-Kwarteng, revealed that fortunately, residents of the aforementioned area do not rely on these sources of water for drinking.
"The interesting thing is that about 98% of the people there use either sachet water or bottled water. It means that they are aware that the quality of the water is questionable. In Dodowa, they also have about three or four water sachet and bottling companies there so it is also affordable in terms of cost. So they take the sachet and bottled water. That is the interesting part."
"And even those who drink the water, they inform them to boil the water before drinking so there is no cause for alarm because the people themselves are aware of the situation and are taking steps to deal with it," he said.
—citinewsroom