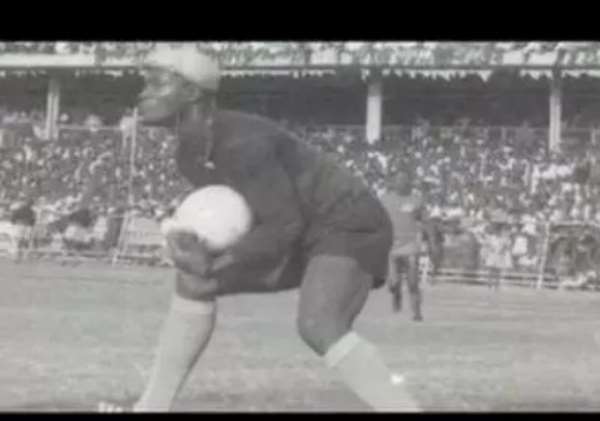 Robert Mensah
Reading the commentary on the Kotoko triumph over Englebert of Zaire in the 1970/1971 African Club Champions finals gives me a nostalgic feeling for a rebirth of the old Kumasi Asante Kotoko. The Porcupine Warriors, Wo Kum apem a, apem b3ba, Fabulous, the Best.
It was a Kotoko squad that had the legendary goalie Robert Mensah in the post, and Malik Jabir with his antics upfront.
We'd read about it that the fashionista President of Zaire, Mobutu Sesse Seko had financed his country club, Englebert, promising them hefty rewards including homes and other goodies if they beat Kotoko for Africa's clubs' premier cup.
Before Kotoko visited them at their backyard in a packed 50 thousand capacity stadium, the Zaire team had shocked the Kumasi and Ghanaian fans with a 1-1 draw in the first leg. A trip they made in a personal plane used by the Mobutu himself.
So, going there for the return encounter, hopes to win and bring back to Ghana the coveted cup was, I believe, only possible in the mindset of the then Ashanti overlord, Otumfuor Opoku Ware II and the safety pair of hands, Robert Mensah.
For as the former provided everything needed by the Kumasi based club in cash and logistics for the return encounter, Robert Mensah laughed off the threats Zaire (Now DR Congo) Englebert players and fans clouded on the Porcupine Warriors.
As the players drooped and bowed in despair, the giant iconic goalie of Kotoko symbolised boldness and a winning warrior against the sweeping currents of the deafening noise of the Englebert fans with their chief patron, President Mobutu, adding on to the pressure with his fearsome presence.
It's this same renowned President Mobutu who arranged for the "Rumble in the Jungle" bout that saw Muhammad Ali knocked out George Foreman in the same Zaire.
Against all odds, Kotoko won 2-1 against Englebert to the fury of President Mobutu, as Robert Mensah added salt to his injury, with his presence forcing their dangerous man, Tsinabu, rifling over the bar a dubious last minute penalty awarded by the obviously bribed referee.
News reached the Ghanaian fans the following day that: "the Porcine Warriors are returning home with the trophy".
Such is the Kotoko of old that has kept some of us tethered to the club so much so that they skyrocket our hormone cortisol if we're defeated in a game. Our hearts beat very fast when it's our local rivals Accra Hearts of Oak that defeats us. That's why we dominate them. Fabulous!
If you're a Kotoko fan and you've read this, you're told of how our beloved club won Ghana's first Clubs Championship League of Africa.
If you're a Phobia fan and you've read this, you're reminded of how we the Fabulous Kumasi Asante Kotoko are not threatened by the presence of sheer noisy supporters. We don't buckle under pressure, we fight to and aim at victory irrespective of where we're hosted.
Nana Asantehene, Otumfuor, King Solomon, Osei Tutu II, Ababio; if you're reading this, it's your uncle Opoku Ware II we've praised so. For far too long, our Phobian foes have gained their bragging voices for also having Africa's premier Clubs trophy in their closet.
If you know not, I am an admirer and great fan of you. I keep your memorabilia with me everywhere I go. But, there is one thing I pray your long stay on Sikadwa Kofi should grace my affinity to you with. And that's to make Kumasi Asante Kotoko reborn and conquer Africa again.
Defeating Accra Hearts Oak in a league game is a dress rehearsal to such embraceable triumphant stride.
Long live Kumasi Asante Kotoko!
Written by: Charles Yeboah (Sir Lord)
Contact/WhatsApp: +233249542111
Email: [email protected]