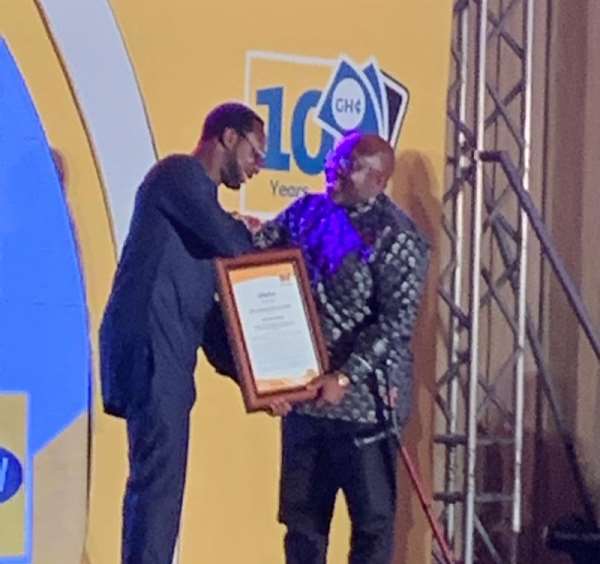 MTN Ghana CEO, Selorm Adadevoh presenting the award to George Andah
Deputy Minister for Communications, George Nenyi Kojo Andah has been honoured with the MTN Mobile Money Builder Award as part of the 10th Anniversary of MTN MoMo.
George Andah was the Chief Marketing Officer (CMO) of MTN Ghana at the time when MoMo was launched 10 years ago, and he is credited with leading the marketing team for the success of the campaign to get Ghanaians to embrace the service.
The citation that accompanied then award read it part "Right from the very beginning when you were CMO at MTN, Mobile Money was your baby. You led the development of our very first Advert "Mensaaka". The slogan really changed the narrative around the service and MoMo became embedded in the minds of our customers."
It further read, "You positioned the service in the minds of our customers and you ensures that the service delivered what the brand promised."
The citation also made a very interesting comment about George Andah's relationship with brand MTN saying that "it has been whispered in several quarters that the blood that runs through you is Yello. If MoMo were a color shade we would have said your blood is MoMo Yello."
A year before the launch of MTN Mobile Money, George Andah received the CIMG Marketing Man of The Year in 2008, and was in the same year recognized by the MTN Group as the Best Chief Marketing Officer within the group, testimony to his mastery in the art of marketing and leadership.
Prior to becoming CMO of MTN Ghana, George was Marketing Director of Guinness Ghana Breweries Ltd, then after MTN, he moved to become Chief Marketing Officer of Bharti Airtel Nigeria, and later returned Ghana as Chief Operating Officer (Country Manager) of Glo Mobile Ghana, where he led the Glo Mobile team to deliver a record one million subscribers within the first 100 days of launching.
George Andah then became the Regional Director, Marketing Promotion for Globacom (Nigeria, Ghana and Benin), before moving on to establish his own company called, RUDDER Solutions, a Ghanaian based market-development management consultancy service that provides a comprehensive set of integrated professional services for business/ market development, corporate / brand communication, reputation management, direct sales, channel development and leadership coaching.
George Andah is currently the Member of Parliament for the Awutu Senya West Constituency and a Deputy Minister for Communications.