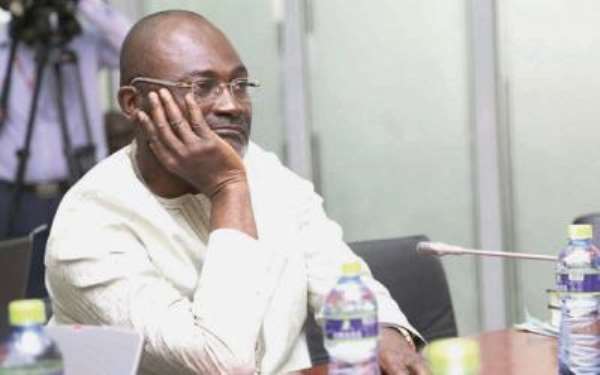 Last week, social media was buzzing when a video popped up with a character in the video purporting to be Anas Aremeyaw Anas, the world-acclaimed investigative journalist. Following that, we saw Kweku Annan, the dismissed staff of Hot FM and now a hired mercenary of anti-Anas crusader, Hon Kennedy Agyapong making frantic efforts to explain the content of the video.
The tricks have become one too many. Is it not intriguing that, an endangered species like Anas, will go to town claiming he's Anas? In the video, you hear the man in spectacles challenging the authenticity of one of the people in the video who claimed to be Anas. If I were to be told that the Pope has gotten married, I will believe that more than this funny video and the characters therein, claiming to be Anas.
In all of this, the extreme self-restraint of the investigative journalist is commendable. Like he always is, he hardly comes out to defend himself when muds are slung at him. How I wish I had modicum of his patience. No wonder he's successful at his work because clearly, his type of work demands extraordinary patience.
I want to examine briefly some of the things we have heard after that video popped up. My suspicion is that the video was acted or better still, fabricated by Kweku Annan - I will come back to this point. Honestly, when this Anas brouhaha started, I enjoyed it and was waiting to believe that, Kennedy Agyapong who used to be one of my favorite politicians until now, will expose the bad side of Anas. To my utter shock, all that he has sought to do, is to keep throwing allegations upon allegations without proving any of it.
While Ghanaians still thought something revealing was in the pipeline, we all got disappointed when Kennedy Agyapong confessed that, his attacks on Anas were ill-fated. According to him, some people in government contracted him to carry out the attacks in the ultimate interest of protecting the 'image' of the president, who had been falsely mentioned by the former GFA president, Lawyer Nyantakyi ahead of the premiering of #12. To my mind, but for the poisonous politics in our country, there's nothing in the #12 exposè to soil the impeccable reputation of the president. Whatever it is, Kennedy Agyapong has opened the pandora box though I have my doubts about his claims against certain people in government relative to his attacks on Anas.
Back to why I think the video was cooked by Kweku Annan. If Ghanaians recall, during the anti-Anas crusades, he, Kweku Annan and Kennedy Agyapong, had alleged that Anas had forcefully taken possession of people's lands. Haha how ludicrous - as if to say, land is some paper lying down by the roadside to be handpicked. Kweku Annan in particular said he had videos and voice audios to prove that Anas had taken lands belonging to certain people. He never showed us those videos at the time.
Recently, when he got into a banter with the self-styled social media journalist, Kevin Taylor, he said once more that, he had videos of Anas dispossessing people of their lands. Unintelligibly, he had already said, Anas was using the police and military to ward off owners of the land but he forgot himself, and now he says, Anas has been using land guards. Two inconsistent narrations on the same matter from the same source. Readers should judge for themselves. I remember he was dragged to NMC by Anas on these very claims of forceful expropriation of lands and he was handed a defeat at NMC. So which evidences did he present at the NMC?
I suspect this video was part of his shreds of evidence. Since the NMC is not a forum of mere allegations, he couldn't prove any of the characters in the video was Anas. He was thus, thrown out. The strategy he has adopted now, I suspect, is to put that same video on social media where it's difficult to decipher between truth and falsehood. The video from how it was shot, looks like a comedy movie. But assuming without admitting that any of the characters in the video was Anas, I am yet to see the criminal dimension which Kweku Annan is forcefully imputing. In the video, someone accosts another person and starts to scream - "he says he is Anas, are you Anas? He is coming to take someone's land". Where's the crime being committed in the video as Kweku Annan would have us believe?
The inexplicable interest of Kweku Annan in the video and his subsequent explanations point to one fact - the video was stage-managed and a character used as 'Anas'. By the way, we thought your interest was to expose the criminal activities of Anas so why the proclivity to show his face? What is exactly your interest? To expose his rogue attitude, to show his face, or to destroy the good works he's known for? Kweku Annan kindly tell us your interest!
Lest I forget, like many Ghanaians, I didn't know anyone called Kweku Annan until you begun to intermeddle with this whole Anas brouhaha. So if there's anything you have gained from this crusade, it is that, it has given you some name and you ought to be thanking Anas for that instead of spiting him to please you paymaster. For emphasis, merely working as a hired mercenary against Anas, is what has given you some 'name'.
Frederick Kweku Osei
2nd December 2019