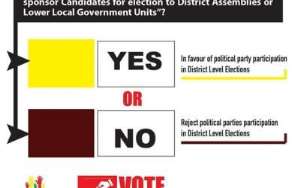 The French would say:
"Le bug politique est de retour dans l'arène."
It means, the political bug is back in the arena.
In a game of politics numbers count a lot, just remember that. But not only that, it's about power and loyalty (You don't choose Brutus as Caesar's deputy).
So why would someone who likes to consolidate power be interested in referendum when he can just handpick or do so at his own choosing? Think about it.
See, politics is also about good leadership.
It's about having a great team with clear vision and being in sync with like-minded individuals. It's about doing the right thing at the right time.
It's about pursuing pro-growth policies.
It's about development, improving services and the lives of the people. And it's about producing effective results for the nation and people.
It's common knowledge, that elections in Ghana be it presidential, parliamentary, by-election or even electing a member at the local assembly-level i.e. Assemblyman/woman have almost always been characterised by tension, and skirmishes. Suffice to say, it's become part and parcel of our body- politic. Thus, it appears we've all become used to this phenomenon.
Isn't itt?
But are Ghanaians really into the forthcoming referendum? If so, what's this fear-mongering that's being churned out by some campaigners?
Would a Yes vote worsen the winner takes all syndrome? No I don't think so. It would rather make the elected officials be accountable to the people. The public official will be answerable to those that gave him the mandate and not the president at the Jubilee House.
Inescapable Facts
Truth be told, I don't think we've lost sight of the fact that we're a nation of politicians.
Yes, I've said it.
Indeed we a nation that breathes and basks in politics. We love politics more than we love our nation and perhaps our own kinsmen.
Possibly that explains why we've serial-callers masquerading as political connoisseurs, and vigilante groups like Delta and Azoka Boys tormenting the citizenry.
Politics has eaten deep into our moral fibre.
And as a people we've oft' turned to denigrate or bastardise that which is even good and worth pursuing.
Given the current trend, I hold the view that campaigners that are able to present strong evidence such as facts and statistics, including statements of authorities and research findings would win the December 17, Yes and No polls.
However, this must also be backed by concrete reference and reasonable examples as well as anecdotes that would enhance the argument either for or against.
Dirty Politics
My fear though, is that I am unsure whether those that are employing pathos in the ongoing conversation or debate would be able to win the hearts and minds of the voters. And whether they would also be able to change voters who might've probably made up their minds to sway from say left or right.
The reason, this element aims to convince the audience by appealing to human emotions. Emotions such as sympathy, anger and sadness rather than tackling issues of substance.
Thus, I think the way to go is for the actors to come out with compelling arguments and use Logos (appeal to logic reason) and Ethos (appeal to credibility).
Yes I get it. I buy the argument presented by the 'No Campaigners' and some political parties, especially, NDC and NPP.
That the two dominant parties would muddy the political waters. Or hijack the process. Isn't that obvious?
Would one forbid himself from drinking water because one had lost his/her child in a river?
Question is:
Aren't we already doing that? Are we implying that we don't know them by the fruits they bear or the colours they wear?
In this country, some individual pastors have become political pundits. They've the eyes to see who's winning and who's losing. Yet they've never predicted anything about economic growth.
And what about the traditional rulers?
Some of our enviable chiefs/kings and queens are enviably in bed with politicians, though the 1992 Constitution debars traditional rulers from indulging in active politics.
Who isn't in this game?
Is it traders, teachers, farmers, spare parts dealers at Kokompe or Magazine?
Is it the police, immigration, or the military officer?
So why the fuss?
Perhaps, it's because we haven't as a nation experimented, the election of
Metropolitan, Municipal and District Chief Executive ( MMDCE's).
But how different is this from the district assembly elections or the others?
Don't we know ourselves?
Don't we know, who we are and what we juggle?
On Tuesday 17, December that arguably landmark event will take place and the good people of Ghana will decide whether the local government system should become partisan or not.
And what does it really mean?
For example, a Yes vote would mean vesting administrative authority in a directly elected Mayor or DCE.
The mayor's responsibilities among others, will enjoin him to primarily to preside meetings and act as head of the city.
The political game
In the meantime, there have been vigorous campaigns by the political parties and actors particularly the NPP and NDC. There have also been several debates and discussion as aforementioned.
Therefore, expect politicians to wear their known rogue garbs. Expect the stakes to be high, as politicking takes high gear amid mudslinging, machinations mischaracterisation, verbal war etc.
Certainly, the political atmosphere is increasingly getting charged.
That said, we should ask ourselves this crucial question: What do we want as a people?
Consider, our nation's capital---Accra. The city's skyline has tremendously improved. But same cannot be said about its landscape in terms of urban planning.
Over the years I've seen mayors come and go. They did their best, I suppose. But that best wasn't enough to rid the capital of nuisance and 'Wahala'..
Interestingly, none of them had been elected by the people. They were all appointed by the President of the Republic.
Accra's streets are jam-packed, slums are springing up almost by yearly basis, hawkers are hawking indiscriminately and indiscipline has taken the centre stage.
The mayors see the indiscipline and the nuisance. Obviously, they don't call the shot. In plain language, they don't have the balls. Such is the reality. Remember he who hires you have control over you. Decision making literally will have to come from above (the boss).
And the Boss' action is predicated on or equally dictated by political expediency.
The upshot is nothing perhaps get done.
Bottom line, the mayor is accountable to the President and not the people. Consider, also the roads in your towns and villages. Are they motorable? It's time to hold someone into account.
Would Voting 'Yes' improve situations?
Voting 'Yes' isn't a silver bullet. However it could possibly change the dynamics of the political game if voters vote Yes on Tuesday.
That remains to be seen though. Fact is, Ghanaians love change but they loathe to see change work effectively.
Can one eat his cake and have it?
This is what Professor George Owusu, University of Ghana said about the Referendum:
"I hope the state doesn't back down on this matter. Late Atta-Mills' constitutional review committee was emphatic on this matter of election of MMDCEs."
"Yet, then govt wasn't bold enough to implement. Whether Yes or No, the state should go ahead with various amendments to elect them because it's the right thing to do, the director, centre for Urban management studies underscored.
"My first visit to Dakar was 2011 ...but was shocked about what I witnessed upon my return to that city five years on in 2016."
He said the elected mayor acting independently of central govt had procured resources to fix every road in Dakar, noting 'that's the power of cities when the right governance framework is in place'.
Ghana has been practising multi-partyism for nearly 27 years now. And if that isn't good enough what else does?
Admittedly, this dispensation has its own baggage and shortcomings. But the facts remain that by this process we've been able to solidify our democracy and successfully elected seven parliament and five presidents. We've been to chalk huge successes.
Lest I forget, another argument against the exercise-- Referendum is that the incumbent intends to elect his own members into office.
That seems too preposterous to me. But granted, that's true. Which one is easier maintain the status quo or introduce party politics in the MMDC'E's ?.
I think the latter would play more into the "winner-takes-all syndrome" than the former.
Inconclusion, I will like my dear readers to peer back into the previous elections with particular reference to the following:
In 2008, the NDC then in opposition out of 230 seats had 116 of its members elected to parliament. NPP- 107, Independent 4, -PNC- 2 and CPP- 1.
Be reminded the opposition NDC had more parliamentary seats than the ruling NPP at the time.
NDC again grabbed more seats in the 2012 parliamentary election than the NPP.
Of the 275 seats, the Umbrella managed 148,
NPP 122, Independent 4,
PNC-1
The 2016 parliamentary election results mimicked the 2008 one. NPP then in opposition flipped the results in its favour.
The Elephant grabbed 169 seats out of 275.
Its political arch-rival-- NDC which managed 148. Thus the pendulum could swing either way.
The Referendum, when accepted, will seek to amend Article 55 of the 1992 Constitution of the 4th Republic. And on that note, I say good luck to the side that presents good stuff.