O'boy Fami: The True Definition Of Disability Not Inability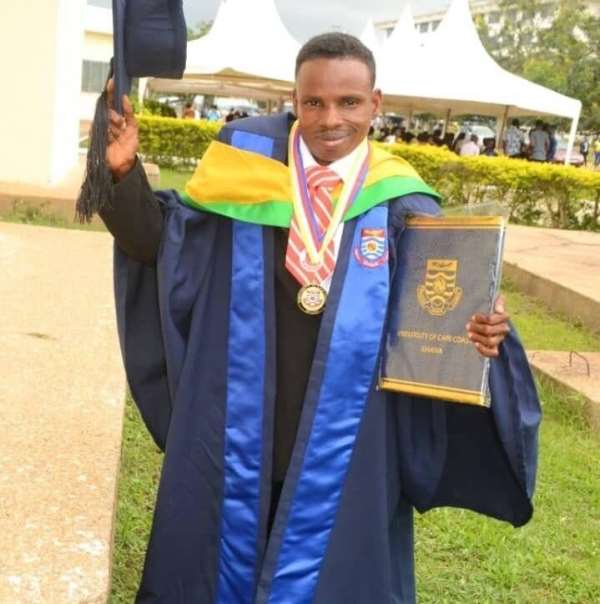 Permit me to introduce to you a brother and friend I made in the Casely Hayford Hall in UCC. He's in the person of Abdulai Issifu, but he's popular known as Oboy Fami. I call him Familia. He was born on April 4th 1987. To help you with the math he's 32yrs old.
Oboy Fami is disabled but a very able student. His condition changed when he was a five year old through injection because he was attacked by poliomyelitis. He narrated to me how a white doctor diagnosed and gave him some few drugs and warned that the little Issifu shouldn't be injected. But no sooner did the doctor leave than he was injected and hence his current condition.
He is from a family of eight children of which he is the second born. Issifu started his education at Moshie Zongo straight from class one in a school called Berstheda International. His dad, who's a Fulani herdsman, relocated the family to Asuofia Achiase in 1999 while Issifu was in Primary four. So he moved to Primary five in Achiase Methodist JHS and completed in 2004. When Issifu was in form one in Junior High School in the year 2002, his senior brother, Hamidu, who is also the first child traveled to Benin to seek greener pastures but never to return again.
The family never heard from him since he left and they do not know whether he is still alive or not. Life became very difficult for the Abdulai family because the father was aging and working solely to cater for the entire family. So even though Oboy Fami passed the B.E.C.E and gained admission at T.I. Ahmadiyyah Senior High School, he couldn't enroll due to financial constraints. The family was utterly broke so he sat home for two years. While at home at Achiase, he was living with a young man by name Adu Tawiah. Tawiah really loved our hero for today and was of immense help to him although Tawiah sometimes drilled him all in the name of wanting him to be strong despite his physical condition. This is quintessential to people living in the rural areas and I believe it really helped Issifu, I shall mention the reasons in subsequent paragraphs.
Tawiah was a caretaker of some his brother's businesses in the Ashanti region. Tawiah's brother, Mr. Kwame Adu Gyamfi, is a wealthy businessman who lives in the U.S.A. Tawiah is not educated so the little Issifu assists him with petty calculations and readings. The potential of our hero was plain to Adu Tawiah so he then mentioned our hero to his brother. The story of our man caught the attention of Mr. Gyamfi who then decided to sponsor Issifu's education to the tertiary level.
Upon receiving the good news, Oboy Fami tried using his 2004 B.E.C.E certificate to enroll into SHS but by then, the computerized system had begun so he had to rewrite before he would be posted. This was a big blow but it never deterred my man. He quickly joined the 2007 year group at his same JHS and wrote the B.E.C.E and duly passed. He then secured admission at Adventist SHS in Bantama Kumasi and read Business. He was a very popular figure in school albeit very quiet and sometimes timid. But he worked hard and completed with flying colors in 2011. After completion, He became a Mathematics and Integrated Science teacher at Divaid International JHS from 2012 to 2015. Due to his passion for learning and teaching, he applied to the University of Cape Coast to further his education and He gained admission to study Bachelor of Education in Accounting.
He started the University of Cape Coast in the 2015/2016 academic year and was assigned to the Casely Hayford Hall. This was where I met him as we all happen to be striving Muslims and we used to meet a lot at the mosque in the hall. I loved him from day one not just because of his morality, shyness and struggles but his never say die nature. We all know UCC is a hell of a school in terms of pressure. But even within the school, there are programs of study upon programs of study. Most education programs are demanding but Bachelor of Education in Accounting is serious. I majored in Mathematics with a minor Business Management but trust me those people are crazy and I always salute them. They have a large number and it is normal to see them in their suits running helter-skelter from one lecture theatre to the other. Our physically challenged brother is always present. He patiently walks and joins late because he cannot run. When I enquired if his classmates give him a seat after he turns up late, he answered in the affirmative. It is a culture in the school for students to assist visually-impaired and physically challenged students and he told me how that helped him a lot.
Issifu worked very hard. He doesn't take advantage of his condition and give excuses or complain. I always see him striving to catch up with the pace of the school. He sometimes has to pick a taxi to lectures because walking to and fro lectures takes him a lot of time and he has to stop intermittently to rest. He once narrated to me how he feels pains on his back while walking, I controlled myself that day just so I wouldn't look weak but I was really touched.
Despite his physical conditions, Oboy Fami was very active in extracurricular activities. During Hall weeks, he duly represented in anything positive. In the 2017/18 and 2018/19, served on the Casely Hayward Hall Library committee for two years. In the same 2017, he was also a treasurer for the Association of Students with Disability – U.C.C Chapter. I usually see him ask questions during open fora with people occupying positions in the school. During the first semester of his final year, that is 2018/2019 Academic year, Issifu did an off-campus teaching practice at Islamic Senior High School, Kumasi Abrepo. He taught Financial Accounting. He is currently doing his National Service at Hemang Buoho Junior High School at Afigya Kwabre District in the same region where he teaches Mathematics. Any random person who was on the UCC campus between 2015 to 2019 should know Oboy Fami, either by face or by name because He came, He saw and He conquered.
Our hero successfully graduated from U.C.C with a Bachelor's Degree in B'Ed Accounting. To me, he deserves a special award for passing through the U.C.C system successfully and with a good CGPA. Another great thanks goes to Mr. Gyamfi and Tawiah for their immense financial, moral and physical support to our brother. We say Allah bless you guys abundantly.
Congratulations, Familia.
Yours Basabasa-ly,
Sleek Shushu (Borla Bird)