MTN, UMB, DVLA, Procurement Experts Bag Awards At 2019 GHAPSCA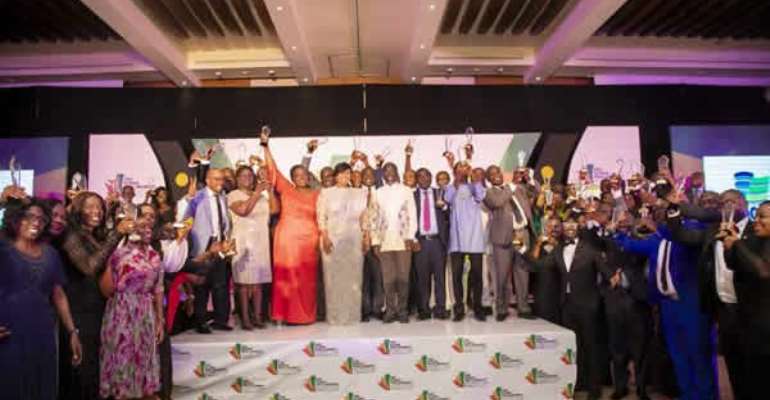 MTN Ghana has picked three prestigious awards at this year's Ghana Procurement and Supply Chain Awards (GHAPSCA 2019) which took place at the Movenpick Ambassador Hotel in Accra.
The awards include Excellence in Procurement & Supply Chain: Telecom/IT, Most Innovative Use of Technology in Procurement (Private sector) and Procurement & Supply Chain Team of the Year: Private Sector (Gold).
Volta River Authority (VRA) took home five awards. They are Excellence in Public Procurement (Gold), Best in Public Procurement & Supply Chain Compliance (Gold), Innovative Use of Technology in Public Procurement and Supply Chain (Silver) and Procurement & Supply Chain Team of the Year: Public Sector (Silver).
Meanwhile, the Chief Executive Officer of VRA, Ing. Emmanuel Antwi-Darkwa was honoured with the Public Sector Supply Chain Leadership Award.
Other awardees include UMB Bank, Barclays Bank, Gold Fields, Unilever, Kosmos Energy, Ghana Gas, AirtelTigo, Vodafone Ghana, McDan Shipping Company, DVLA, Ghana Health Service, Maxam Ghana, Silver Star Auto, Strategic Security Systems, Komfo Anokye Teaching Hospital and Ministry of Procurement.
A total of 66 awards were presented to organizations and leading experts for their exceptional contributions to the procurement and supply chain industry.
The keynote speaker, Hon. Adwoa Safo, procurement minister of state incharge of procurement said public procurement in Ghana currently accounts for approximately 50% - 70% of government expenditure.
She however noted that the existence of corruption, conflict of interest, collusion and fraud poses a major threat to the judicious utilization of public funds.
Speaking on the topic "tackling procurement integrity in Ghana", the sector minister indicated that examples of corruption and collusion in public procurements include awarding contract on the basis of bribes or personal interest, awarding contracts to firms in which one's friends, family or business acquaintances have interest or to political supporters.
Procurement Integrity
She added that the Auditor General's Report since time immemorial captures about 80percent of its findings being public procurement malpractices which is extremely worrying.
Adwoa Safo indicated that integrity is the wayforward to deal with the procurement breaches and scandals in public institutions.
According to her, integrity in public procurement first refers to procurement carried out without any influence of corruption.
"We can only achieve value for money if we provide for integrity in the procurement system. Lack of integrity violates equal treatment and equal participation in the procurement process.
"I would like to stress that, integrity in any public procurement system offers numerous benefits including value for money, encouraging investment, innovation, and reduction of corruption, fraud and collusion in public procurement.
"Public procurement being the main mechanism through which government provides goods, works and services to its citizenry, when challenged by the lack of integrity in the processes, procedures could be disastrous to the state," Adwoa Safo emphasised.
Develop Code of Conduct
The sector minister stressed that good ethical standards will also help build the integrity of the procurement professionals in order to achieve Value for Money.
She intimated that this has made it necessary to develop a standardized Code of Conduct for all procurement professionals.
"I wish to inform all gathered here that, my Office on the 27th of February, 2019 inaugurated an Ethics and Standards Committee for procurement practitioners in Ghana. The Committee was tasked to formulate a comprehensive and uniform Code of Conduct for benchmarking the performance of procurement practitioners in the country and proffer sanctions when breaches occur. The Committee has completed with its work and will present its draft in no time," Adwoa Safo stated.
She is optimistic that the Code of Conduct will regulate the acts and omissions of procurement practitioners in Ghana to maintain the highest ethical standard and professionalism required of them.
Procurement and Supply Chain Professions Act
Adwoa Safo added that based on the standard Code of Conduct, her office shall champion the promulgation of a Procurement and Supply Chain Professions Act synonymous to the Legal Professions Act, 1960 (Act 32), the Chartered Accountants Act, 1963 (Act 170), the Health Professions Regulatory Bodies Act, 2013 (Act 857), the Survey Act, 1962 (Act 127).
According to her, there is therefore, a high possibility for procurement officers to extract personal gain from the procurement process and in the exercise of discriminatory authority.
"Therefore, as a country, we ought to regulate the conduct, acts and omissions of procurement," she posited.
The sector minister calls for the development of a robust suspension and debarment regime to regulate the actions, inactions and activities of Head of Entities, Entity Tender Committee Members, Contractors and Suppliers.
Clarion call
She urges procurement officers to act with much honesty, diligence, openness and professionalism as procurement practitioners in order to achieve our aim of Ghana Beyond Aid.
"As procurement practitioners we should endeavor to follow the highest standard of conduct for our own sake. We should not use our offices for our own private or personal gains. Also, entities should ensure that their various procurement professionals are qualified and are of high moral aptitude, ethical and honest," Adwoa Safo emphasised.
The Ministry of Procurement was honoured with the Promoting Procurement Ethics award for their efforts in promoting integrity in the procurement process since the office was established in 2017.
The Chief Executive Officer (CEO) of Instinct Wave, Mr. Akin Naphtal announced the unveiling of a supply chain magazine, "Supply Chain Africa".
"After a successful maiden edition last year which would not have been possible without industry players and stakeholders, I am delighted to announce the birth of the supply chain magazine dubbed 'Supply Chain Africa' which will be out in two weeks.
"Ladies and gentlemen, aside recognizing and rewarding innovative and transformative players in the procurement industry it is only appropriate that we chronicle all these in a magazine," he stated.
GHAPSCA 2019 also unveiled the top 20 Procurement leaders award and outstanding individuals in the procurement and supply chain industry. Some of them include; Nana Ama Appiah (Zenith Bank), Enoch D. Dugbartey ( UMB Bank), Evelyn Sam (AirtelTigo), Joshua Kofi Rockson (Barclays Bank), Patrick Afari ( MTN Ghana), Theophilus Otchere ( Gold Fields), Nazaire Djako ( Unilever), Eric Ekow T. Ghansah (Maxam Ghana), Robert Kweku Tay ( DVLA), Sampson Owusu Afriyie (KATH), Kwame Gyeabour ( Kosmos Energy), Michael Owusu (Vodafone), Araba Kudiabor ( Ghana Health Service).
Special recognition awards were also conferred on outstanding individuals which included: Executive Director for Chase Petroleum, Daniel Augustus Amoah, President of CISCM, Richard Obeng Okrah, MD of KEK Insurance Brokers, Charles Oduro, CEO of VRA Emmanuel Antwi-Darkwa, Country manager for CIPS, Stella Addo, CEO of McDan Shipping Company, Daniel McKorley, CEO of Zenith Bank, Henry Oroh, CEO of Ghana Gas, Ben K. Asante, Managing Consultant for Supply Chain Management, Basil Ahiable and Samuel Asare Boateng for their contributions to the sector.
Graduates from the Procurement & Supply Chain departments of Sunyani and Takoradi Technical Universities were also recognized for their academic achievements.
Below is the list of Award Winners:
ORGANISATIONAL AWARDS
Emerging Improvement in Procurement & Supply Chain: Banking – Barclays Bank
Excellence in Procurement & Supply Chain: Banking (Silver) – UMB Bank
Excellence in Procurement & Supply Chain: Banking (Gold) – Zenith Bank
Emerging Improvement in Procurement& Supply Chain: Mining – Maxam Ghana
Excellence in Procurement& Supply Chain: Mining – Gold Fields
Excellence in Procurement & Supply Chain: Telecom/IT – MTN Ghana
Excellence in Procurement& Supply Chain: Consumer Goods – Unilever
Excellence in Procurement& Supply Chain: Automobile – Silver Star Auto
Excellence in Procurement& Supply Chain: Oil & Gas (Downstream) – Kosmos Energy
Excellence in Procurement & Supply Chain: Oil & Gas(Midstream) – Ghana Gas
Most Improved Procurement Process of the Year ( Private Sector) – AirtelTigo
Procurement Innovation of the Year ( Paperless System) – Vodafone Ghana
Procurement & Supply Chain Service Provider of the Year Award – Strategic Security Systems
Most Innovative Use of Technology in Procurement (Private sector) – MTN Ghana
Local Content Development Award (Silver) – Kosmos Energy
Local Content Development Award (Gold) – Gold Fields
Sourcing Excellence Award – Vodafone
Supply Chain Solutions Provider of the Year – McDan Shipping Company
Sustainability Procurement Award (Silver) – Kosmos Energy
Sustainability Procurement Award (Gold) – Unilever
Procurement & Supply Chain Team of the Year: Private Sector (Bronze) – Gold Fields
Procurement & Supply Chain Team of the Year: Private Sector (Silver) – AirtelTigo
Procurement & Supply Chain Team of the Year: Private Sector (Gold) – MTN Ghana
PUBLIC SECTOR
Excellence in Procurement & Supply Chain: Health Care (Silver) – Komfo Anokye Teaching Hospital
Excellence in Procurement & Supply Chain: Health Care (Gold) – Ghana Health Service
Excellence in Public Procurement (Silver) – DVLA
Excellence in Public Procurement (Gold) – VRA
Best in Public Procurement & Supply Chain Compliance (Silver) – Komfo Anokye Teaching Hospital
Best in Public Procurement & Supply Chain Compliance (Gold) – VRA
Best Improved Procurement Process (Public Sector) – Ghana Health Service
Innovative Use of Technology in Public Procurement and Supply( Bronze ) – DVLA
Innovative Use of Technology in Public Procurement and Supply Chain (Silver) – VRA
Innovative Use of Technology in Public Procurement and Supply Chain (Gold) – Ghana Health Service
Procurement & Supply Chain Team of the Year: Public Sector (Bronze) – Komfo Anokye Teaching Hospital
Procurement & Supply Chain Team of the Year: Public Sector (Silver) – VRA
Procurement & Supply Chain Team of the Year: Public Sector (Gold) – Ghana Health Service
Promoting Procurement Ethics Award – Ministry of Procurement
INDIVIDUAL AWARDS
Procurement & Supply Chain Professional of the Year( Private Sector) – Enoch D. Dugbartey, Head of Procurement- UMB Bank
Woman Procurement & Supply Chain Professional of the Year( Private Sector) – Evelyn Sam, Chief Supply Chain Officer, AirtelTigo
Professional of the Year (Public Sector) – Araba Kudiabor, Head of Procurement- Ghana Health Service
Industry Personality of the Year – Nana Ama Appiah, Head General Services & Procurement- Zenith Bank
SPECIAL RECOGNITION AWARDS
Outstanding Contribution to Procurement Professionalization – Stella Addo, CIPS Country Manager
Outstanding Contribution to Procurement & Supply Chain Industry – Samuel Asare Boateng
Outstanding Contribution to Procurement & Supply Chain Industry – Basil Ahiable
Outstanding Contribution to Supply Chain Industry – Richard Obeng Okrah, President- Chartered Institute of Supply Chain Management
Petroleum Supply Chain Visionary Award – Daniel Augustus Amoah, Executive Director- Chase Petroleum
Supply Chain Man of the year – Mr. Charles Oduro, MD- KEK Insurance Brokers
Public Sector Supply Chain Leadership Award – Ing. Emmanuel Antwi-Darkwa, CEO- VRA
Procurement Transformation CEO Award (Private Sector) – Henry Oroh, CEO-Zenith Bank
Procurement Transformation CEO Award (Public Sector) – Ben K Asante, CEO- Ghana Gas
Supply Chain CEO of the Year – Daniel McKorley, CEO- Mcdan Shipping Company
STUDENT AWARDS (SPONSORED BY PANAVEST)
Best Procurement Student Award – Edward Twum Amadi-Atta, Takoradi Technical University
Best Procurement Student Award – Mr. Oti Asabre Michael, Sunyani Technical University