Without Due Respect Akufo-Addo Is A Failure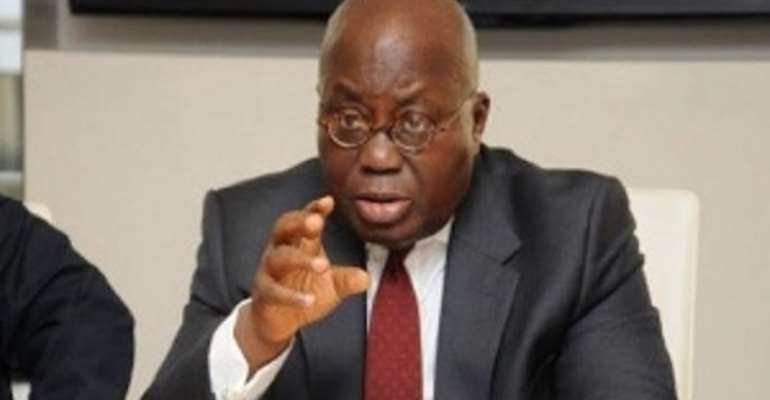 Fellow Ghanaians, Many of us in the Diaspora are gutted at the current state of affairs in our beloved country . Yes we are gutted, angry and highly disappointed in the NPP led government.
Today Ghana is yet again at a crossroads, quite similar to what led to the 1979 coup d'etat which many of the younger social media ranters do not even have a clue about.
Government is littered with questionable corrupt characters whose only interest is to be seen in the latest car or useless mansions while the rest of the country can go to hell, and guess who tops that list - none other than Kennedy Agyapong, the branded bulldog for the NPP party.
Ghanaians are at a point where this man's fart doesn't stink anymore because we have all smelt it and can tell even if he is a mile away. Our current dispensation under this government is unprecedented when it comes to corruption and corruptionable tendencies of government appointees. Kevin Ebo Taylor the NPP anti-corruption crusader is doing what no one within the NPP party can do or is prepared to do for the interest of Mother Ghana, and all NPP members and sympathizers are cowards as not a single firebrand within that tribal cult has the balls or breast to even commend this gentleman, rather you all tagging him as being on NDC payroll... how lame and shallow can you guys be?? Does that mean Kwame A-Plus is also on NDC payroll??? Then the NDC party must be rich and one would wonder how come their branches are impoverished.
Kennedy Agyapong having the audacity to get on Radio and Facebook Live to speak to the world about Kevin Ebo Taylor 's parents in such insulting manners is a pure reflection of what sort of President Ghana has, and the sort of government with no aorta of accountability he presides over.
Enough is that enough, the good people of Ghana should be able to speak up now. The time for change in our ways is now, now is when the supposed men of God, vis a vis the Mensah Otabils, Duncan Williams etc should exhibit their love for Ghana through messaging that talks against such uncouth leadership mannerism. Kennedy Agyapong has just displayed his ignorance to the entire world, and like a seasoned European politician said after watching it — Semi Literate people are always a danger to every society and this man just displayed that he is not educated and neither is he intelligent - unquote.
On this note, Ghanaians in the Diaspora, this is our time of HomeComing, make the days weeks and months ahead, be one that we speak up against such stupidity and corruptive and divisive utterances. Lets all rally behind a common goal , and that is to Stop Corruption Now, so we can have a Ghana Beyond Corruption.
Thank you
Togbe Adatsi
Diasporan
NDC HOLLAND Member
Social Commentator - Nederland Based